This Creamy Korean Ssamjang (쌈장) Pasta was inspired by the pork belly ssam (쌈) that I always order at Korean barbecue. Succulent pieces of pork belly in a spicy, creamy, and umami pasta sauce. Topped with parmesan cheese, egg, and green onions. This recipe is so easy!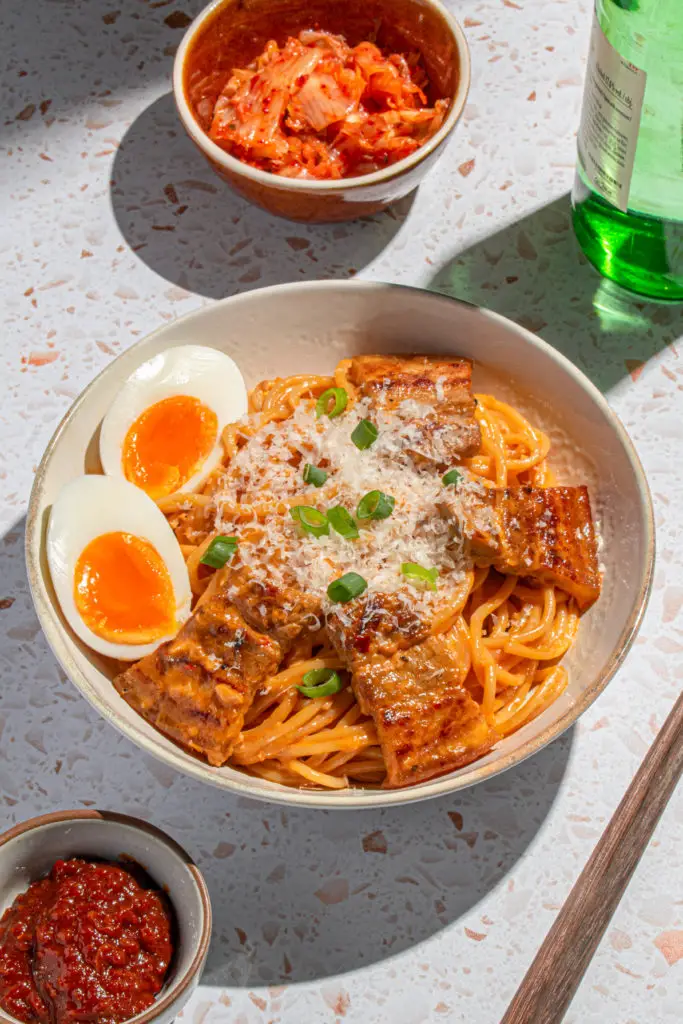 What is a Ssamjang (쌈장)?
Ssam (쌈) in Korean means "wrapped" and usually refers to a dish that consists of a leaf-wrapped piece of meat or barbecue. The main condiment or sauce that accompanies this dish is ssamjang.
Ssamjang (쌈장) is a Korean fermented and seasoned soybean paste. The main components of the sauce are soybean paste(doenjang/된장), red chili paste(gochujang/고추장), garlic, onion, roasted sesame, and sugar. The sauce has strong umami, garlic, and chili flavors while being slightly sweet. The brand of ssamjang that I used was not spicy at all.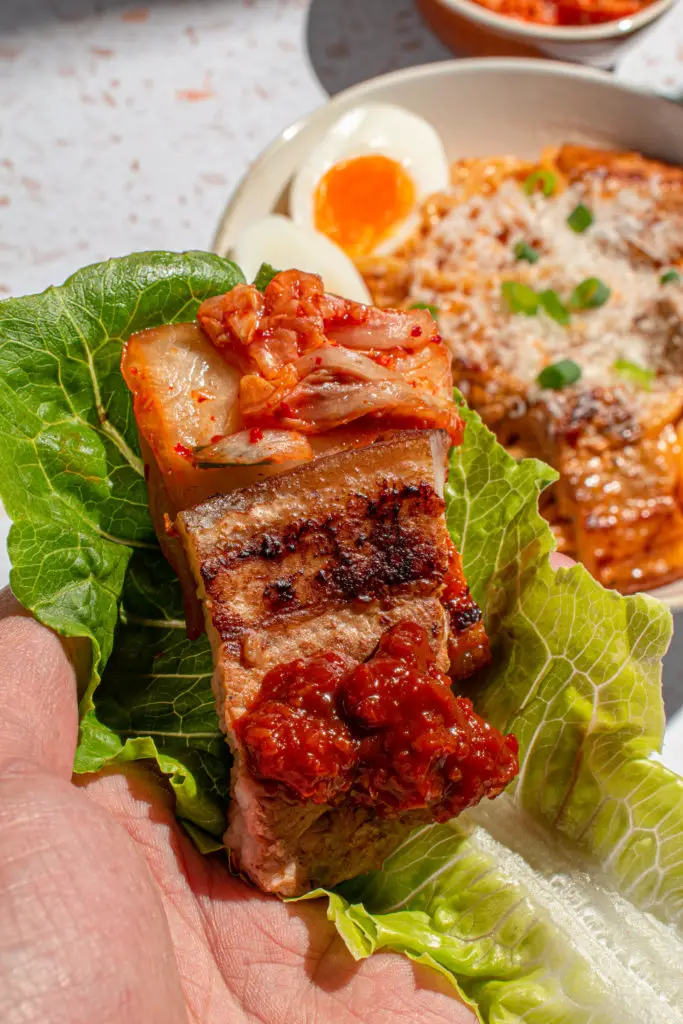 What is the difference between Ssamjang and Gochujang?
Gochujang (고추장) is a smooth red chili paste, while Ssamjang (쌈장) is a textured mixture of soybean and chili paste. Both will work in this recipe.
Gochujang is often used in Korean soups, stews, and as a sauce for bibimbap (Korean rice dish). Ssamjang is the main condiment for ssam (Korean lettuce wraps).
What can I substitute Ssamjang with?
In this recipe, you can easily substitute ssamjang with gochujang. The flavors are slightly different but will still be delicious nonetheless. Another great substitution would be Chinese fermented chili bean paste (doubanjiang/豆瓣酱). These alternatives will all bring umami to the pasta.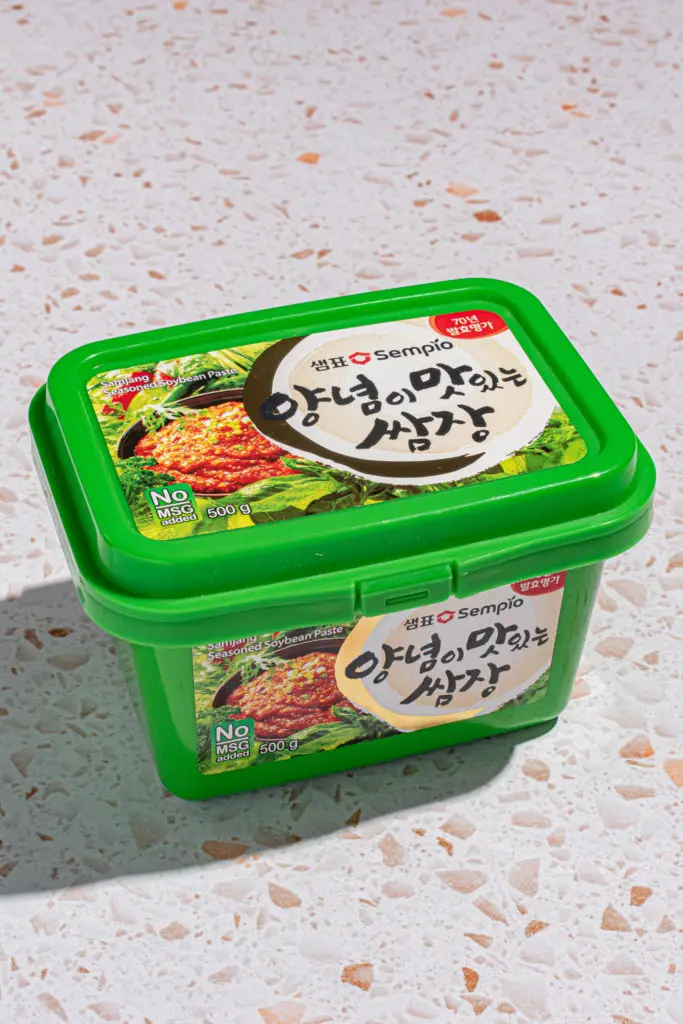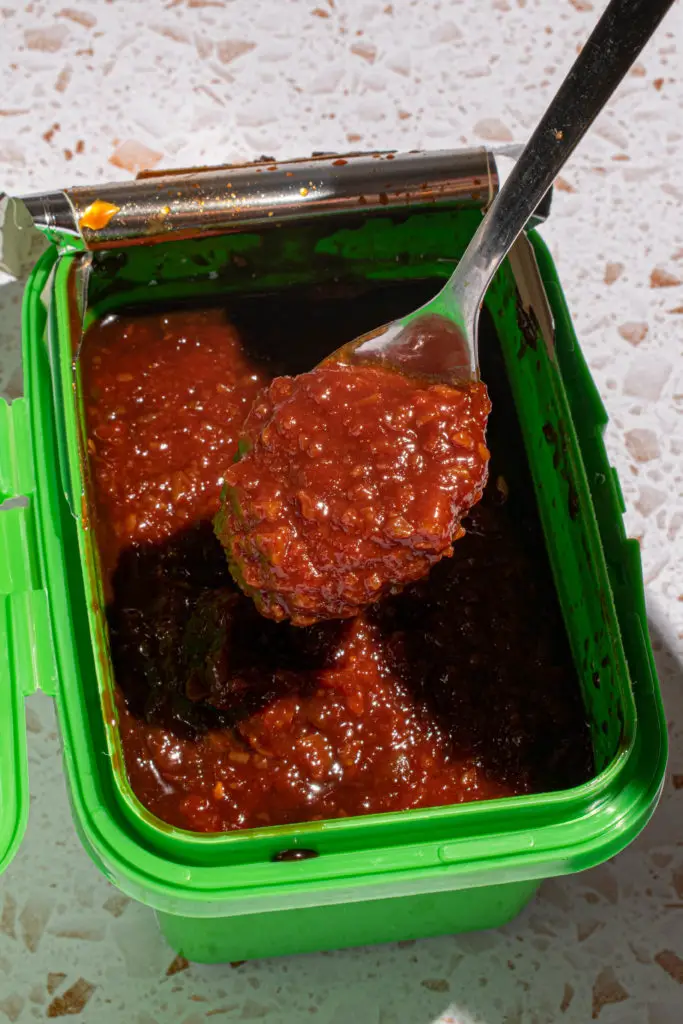 Why salt your pasta water?
Cooking pasta in salted water seasons the pasta while it cooks. The salt will absorb and penetrate the pasta giving you flavor dispersed throughout the whole dish.
How much salt to add to your water? Well, a good real of thumb is to cook your pasta in water that tastes like the sea. It's a lot of salt, but only a small amount is retained in the final product. Never rinse your pasta!
Save your pasta water!
Always reserve about 1 cup of pasta water as your pasta finishes cooking. This salty and starchy water will do many things:
It seasons the dish
Thickens the sauce
Helps the pasta and sauce hold together
Gives you a beautiful, creamy, and silky finish
Save that pasta water, it makes all the difference!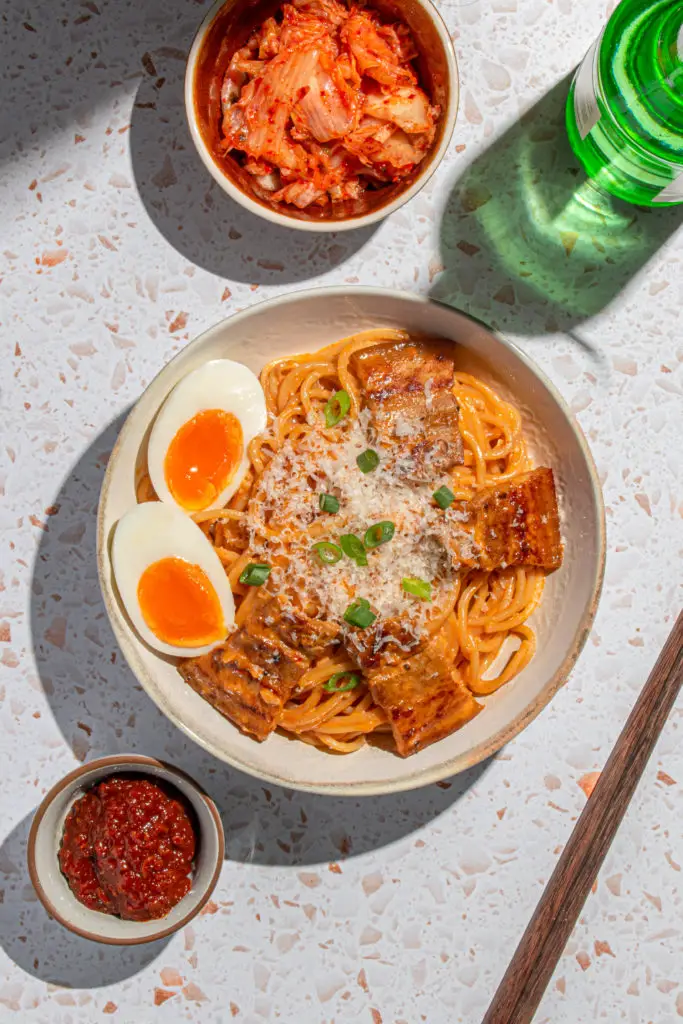 Key Ingredients
Pasta: I used spaghetti, but feel free to use other shapes. Penne and rigatoni would be divine.
Pork belly: I used thinly sliced pork belly, but other proteins would work as well. Bulgogi, grilled chicken, sliced ham, bacon, or even marinated tofu could be great alternatives.
Butter: Unsalted butter.
Ssamjang: Ssamjang is a fermented Korean seasoned soybean paste. The brand I used was by Sempio and can be found in your Asian supermarket in the condiments section, usually next to gochujang.
Cream: I used half and half cream. A mixture of dairy like cream and milk will also work.
Pasta water: Often times dubbed "liquid gold". The starchy pasta water is what brings the whole sauce together. Make sure to save a cup right before straining your pasta.
Parmesan cheese: Finely grated cheese melts into the sauce like a dream. Perfect for garnishing as well.
Tips!
Serve with kimchi: The pasta works really well with kimchi on the side. Highly recommend it along with other Korean banchan side dishes.
Add extra ingredients: This recipe is similar to Asian carbonara recipes. Feel free to add mushrooms, shredded ham, corn, or anything else!
Pasta water: save your pasta water to help bring the sauce together!
Season your food: Make sure you're seasoning your food as you go. Keep in mind that the pasta water is heavily salted and will contribute a lot of saltiness to the dish.
More Recipes That You Would Like
Lychee Jelly Cream Puffs
Strawberry Green Tea Tiramisu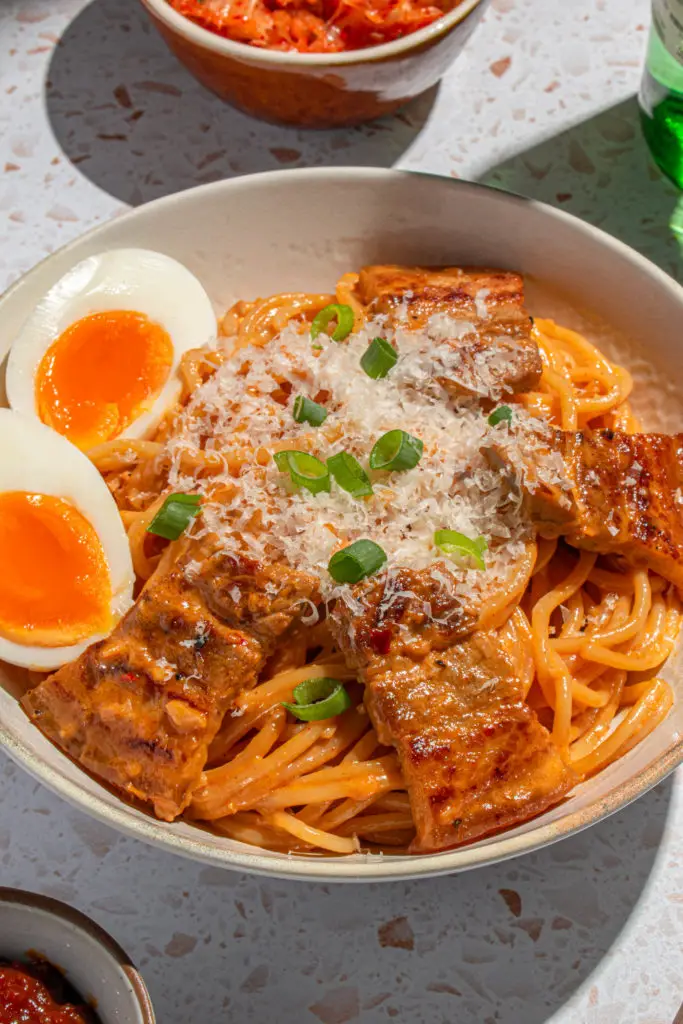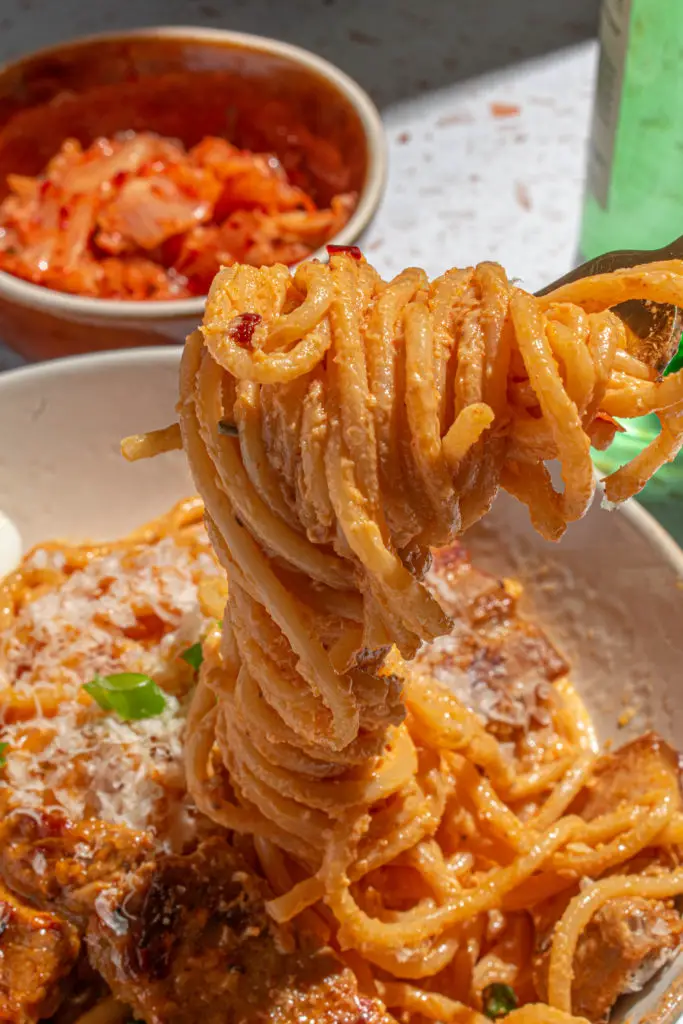 Yield: 2 servings
Creamy Korean Ssamjang (쌈장) Pasta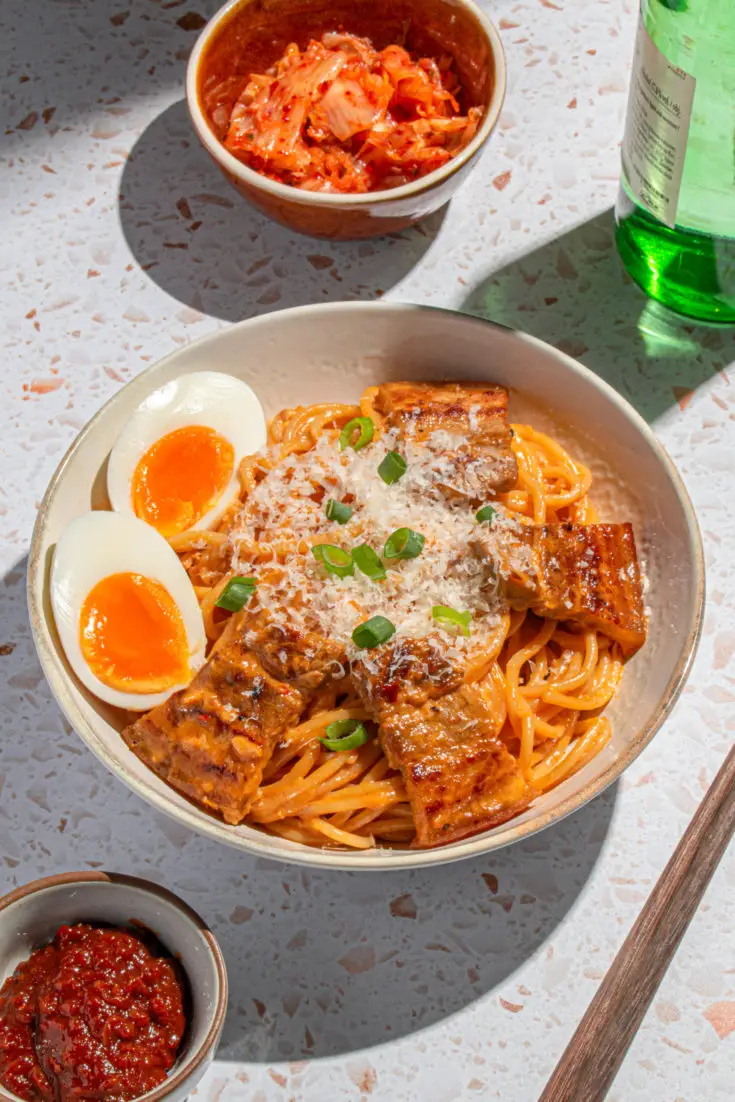 This creamy Korean ssamjang (쌈장) pasta was inspired by the pork belly ssam (쌈) that I always order at Korean barbecue. Succulent pieces of pork belly in a spicy, creamy, and umami pasta sauce.
Ingredients
200g spaghetti
2 slabs pork belly (~150g)
Sauce
1 tbsp Butter
1 tbsp Minced garlic
3 tbsp Ssamjang
⅓ cup Parmesan cheese + more for serving
¾ cup Cream (~200g)
Black pepper to taste

Red pepper flakes to taste
Reserved pasta water
Salt to taste
Optional garnish and serving
Green onions
Soft boiled egg
Parmesan cheese
Kimchi
Instructions
Pan-fry pork belly until cooked through. Cut into smaller chunks, lightly season with salt and set aside.
Add pasta to salted boiling water.
While the pasta is cooking, melt butter in a pan and sauté garlic and ssamjang. Add cream, stir together and simmer over medium heat for 3 minutes. Add pork belly to reheat.
Once pasta is al dente, reserve about 1 cup of pasta water before straining. Add pasta to sauce and mix in parmesan cheese, red pepper flakes, and pepper. Slowly drizzle in pasta water a little bit at a time while mixing. You won't use all of the pasta water, just add enough until the sauce is nice and silky.
Season with salt to taste if necessary. Top with more parmesan cheese, spring onions, and a soft boiled egg.
Enjoy!
More Recipes