These "Warabi Mochi わらび餅" are soft, chewy, and jiggly. Dusted with nutty roasted soybean powder and drizzled with brown sugar syrup. Made with tapioca starch which is easier to find than warabiko.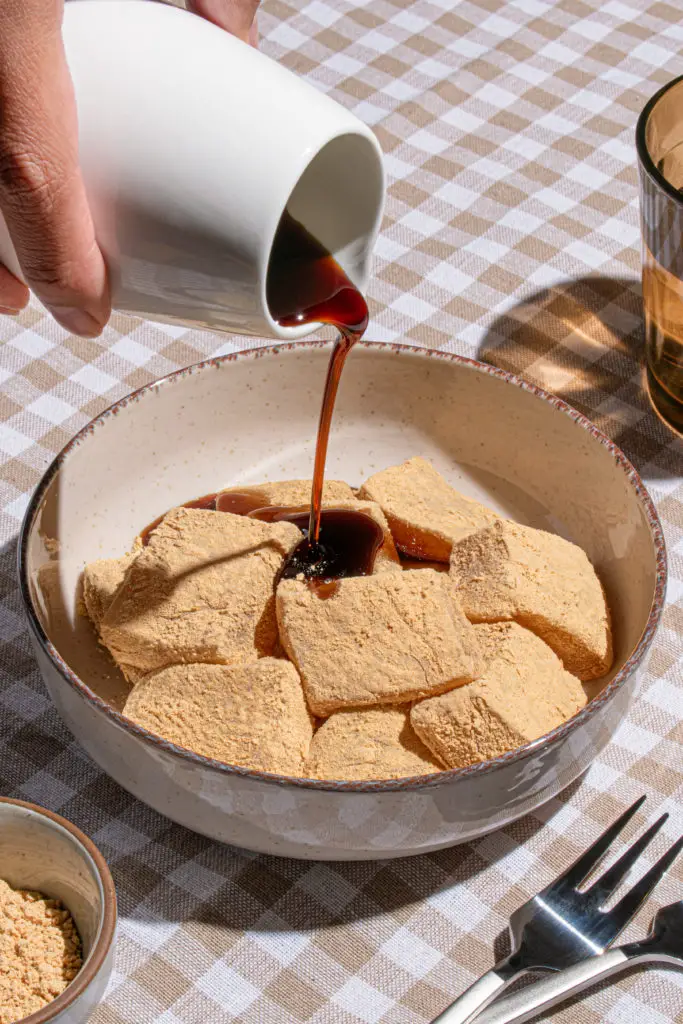 What is Warabi Mochi?
Warabi mochi わらび餅 is a Japanese dessert that is traditionally made with bracken starch or warabiko. Often dusted with roasted soybean powder or matcha and served with a brown sugar syrup. It is quite different than mochi, which is made from glutinous rice. Warabi mochi's texture is more jelly-like.
What is Kinako and Kuromitsu?
The mochi itself is sweet without any flavoring. They are dusted with kinako(Japanese roasted soybean powder), which has a nutty flavor similar to peanuts. Then drizzled with kuromitsu(Japanese brown sugar syrup sauce) which compliments the soybean perfectly. Truly a match made in heaven!
Why Tapioca Starch?
Traditionally in Japan, warabi mochi is made with warabiko or bracken starch. However, it is quite a rare ingredient to find. This version is far from authentic, but uses tapioca starch which can be found at almost all asian supermarkets.
Tapioca starch or sometimes known as tapioca flour, is also the main ingredient that goes into making boba in bubble tea. Tapioca starch/flour cannot be replaced with regular flour, nor cornstarch.
Key Ingredients
Tapioca Starch: Sometimes referred to as tapioca flour. This is the main ingredient that goes into making tapioca pearls(boba) in bubble tea. Tapioca starch needs to be heated in order to set up and give the mochi their chewy texture. You can find this in most asian supermarkets.
Sugar: For the warabi mochi, I used white granulated sugar. Other sugars will work but the mochi will a tint.
Brown Sugar: Dark brown sugar is used to make the kuromitsu brown sugar syrup. This has the richest flavor and color. In Germany, dark brown sugar can be found in asian supermarkets.
Kinako Powder(黄粉 or きなこ): Kinako is a Japanese roasted soybean powder. In Korean, it is known as injeolmi powder. Both will work and can also be found at an asian supermarket. The flavor is nutty and comparable to peanut.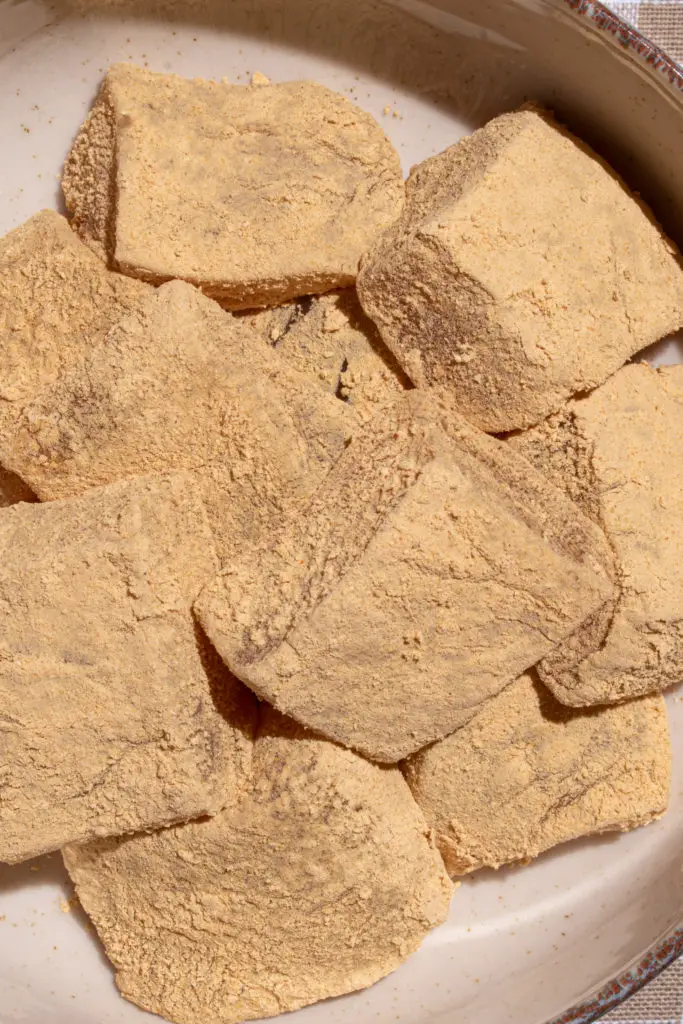 Tips!
Cook mochi on low/medium heat: You do not want your mochi to burn!
Whisk constantly: This will prevent burning and lumps.
Lightly oil your pan: I've tried with and without oil, neither of them cause any problems with sticking, but better safe than sorry!
Be generous with the kinako: The mochi is very sticky once set. Make sure to dust your cutting board generously with soybean powder so it doesn't stick to your surface. Then dust the top with more powder to ensure clean cut pieces.
Cut straight down: When cutting the mochi, use a sharp knife and push straight down rather than using a sawing motion. Sawing will just cause the mochi to tear and stick to the knife.
More Recipes That You Would Like
Brown Butter Matcha Cookies
Brown Butter Matcha Rice Krispies
Matcha White Chocolate Frog Donuts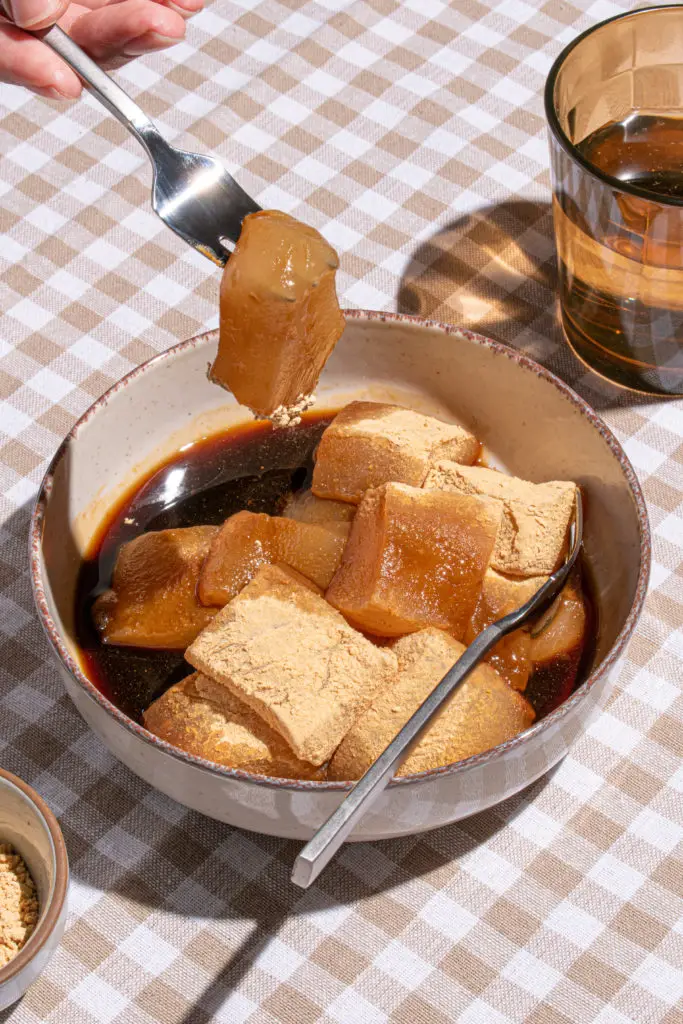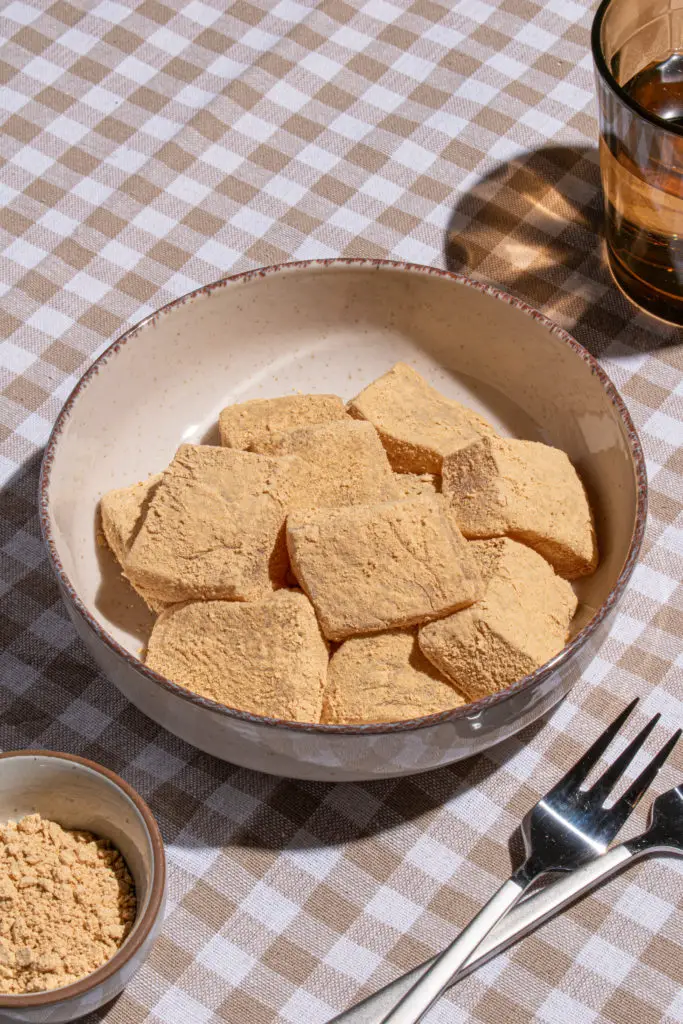 Yield: 4 servings
Warabi Mochi (using tapioca starch)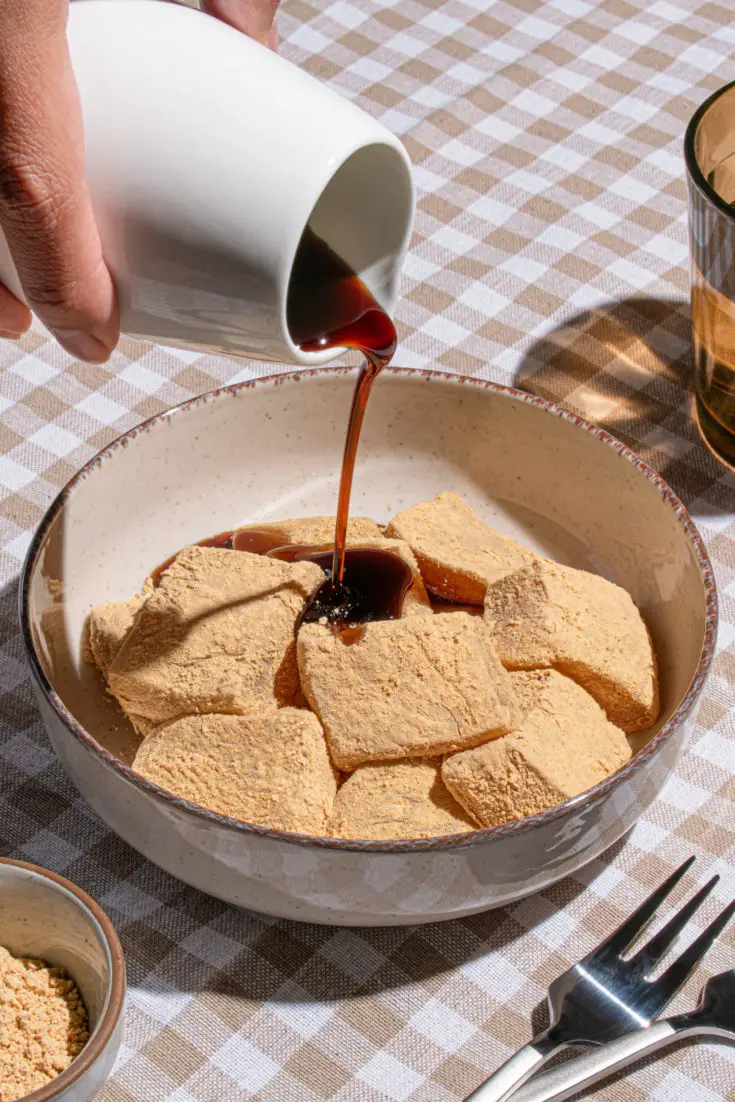 Total Time
3 hours
10 minutes
Ingredients
Mochi
100g tapioca starch
3 tbsp sugar
450g water
Kuromitsu Brown Sugar Syrup
45g brown sugar (dark preferred)
120g water
For Dusting
Kinako/Injeolmi/roasted soybean powder (~40g)
Instructions
Add all mochi ingredients to a pot. Mix thoroughly with a rubber spatula to ensure no lumps.
Stir constantly over low-medium heat. The mixture will start to thicken. Continue stirring until the mixture turns clear (~10min).
Pour mochi into a lightly oiled pan and refrigerate around 3 hours or until set
To make the kuromitsu syrup, add brown sugar and water to a small saucepan. Simmer until thickened and able to coat the back of a spoon. Refrigerate.
Once mochi has set, dump onto a soybean powder dusted cutting board. Dust more powder on top and slice mochi into cubes. Finally, roll in more soybean powder.
Serve with a light drizzle of syrup and enjoy!
More Recipes