These Brown Butter Matcha Rice Krispie Cereal Treats are one of those minimal effort maximum pay-off recipes. A little twist on the classic ooey gooey puffed rice marshmallow treat. It comes together in under 20 minutes and it's insanely delicious! Definitely a top 3 recipe on my website for sure.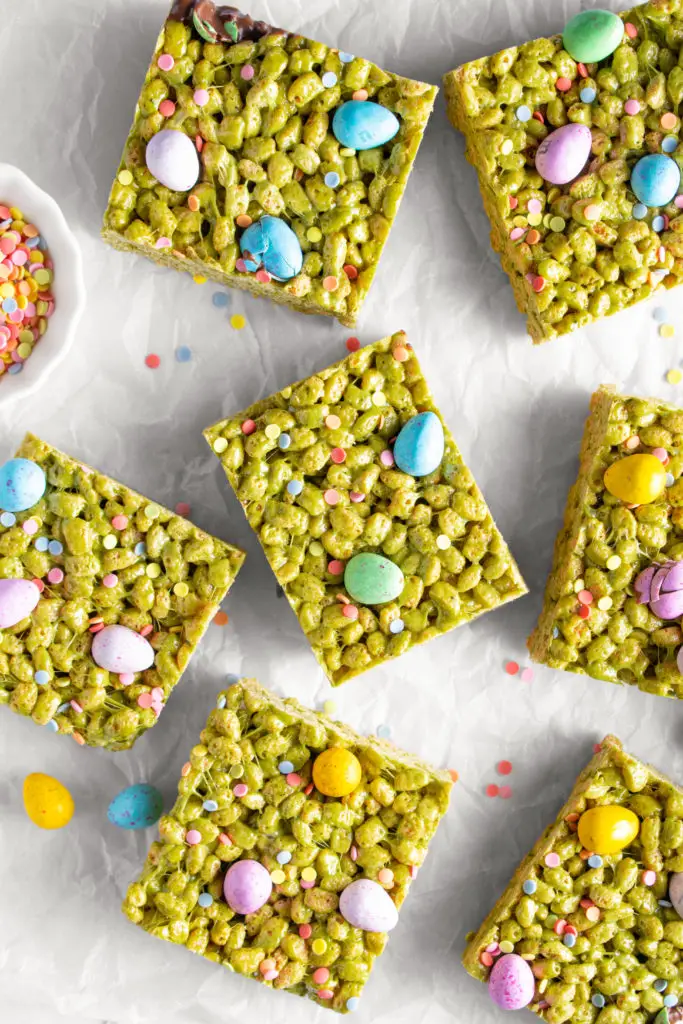 Matcha and Brown Butter. That is all.
Name a more iconic duo than matcha and brown butter, I'll wait. This is my second recipe with this combination. I also made some brown butter matcha cookies. Seriously though, the nuttiness of the brown butter pairs perfectly with the matcha, I'm in love with how these turned out.
Before you cancel me for calling these rice krispies when I didn't use puffed rice at all, keep in mind that I live in Berlin, Germany. It's almost impossible to find rice krispies cereal in Germany. I looked high and low throughout the grocery stores here. We have every single puffed grain option except puffed rice. I had to decide between oat crisp cereal(knusprige haferfleks) or puffed quinoa. I chose the former and it worked perfectly, although less light than puffed rice. Also I'd like to acknowledge that a box of rice krispies cereal on amazon.de costs 12 euros. By Felicia.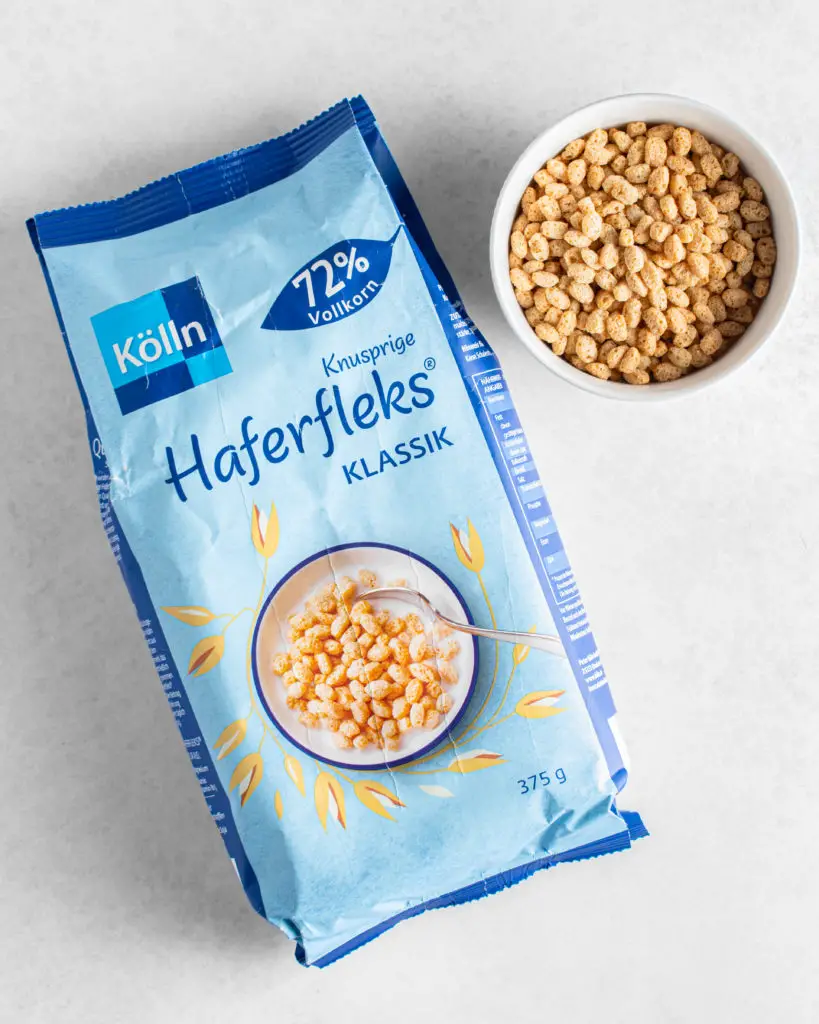 WHY BROWN BUTTER? HOW TO MAKE BROWN BUTTER
Browning the butter is not necessary but it sure does add an amazing nutty, toasty, and earthy flavour.
How the heck do we make brown butter?
Melt butter over low heat
Turn the heat up to medium high. It'll start to boil and bubble. Don't be alarmed! This is normal, but be careful of splatters.
The butter will foam and little brown bits will start to form on the bottom. Stir constantly.
Once the the brown bits turn golden, STOP and remove from the heat. You can easily burn browned butter.
Allow to cool and you're ready to use it in this recipe!
Let's Talk Matcha
Matcha is a Japanese finely ground green tea powder. I'll be honest, it's expensive! However, when it comes to baking, don't get too caught up in quality. I use the cheapest culinary grade matcha that I can get my hands on.
I use 2 tbsp of matcha in this recipe. The matcha flavor is prominent but feel free to add more or less depending on your preference.
Use anything! Get creative!
Honestly rice krispie cereal treats are so versatile. The base recipe is 3 ingredients: butter, marshmallows, and whatever mix-ins you'd like. It's just important to keep the measurements relatively the same, ie. 300g of marshmallows, 3 tbsp butter, and 6 cups of whatever mix-in you'd like.

Get creative! I've seen people make Hot Cheetos and even Doritos marshmallow treats, which is the perfect sweet/salty/spicy/guilty pleasure.
More Matcha Recipes
Brown Butter Matcha Cookies
Matcha White Chocolate Frog Donuts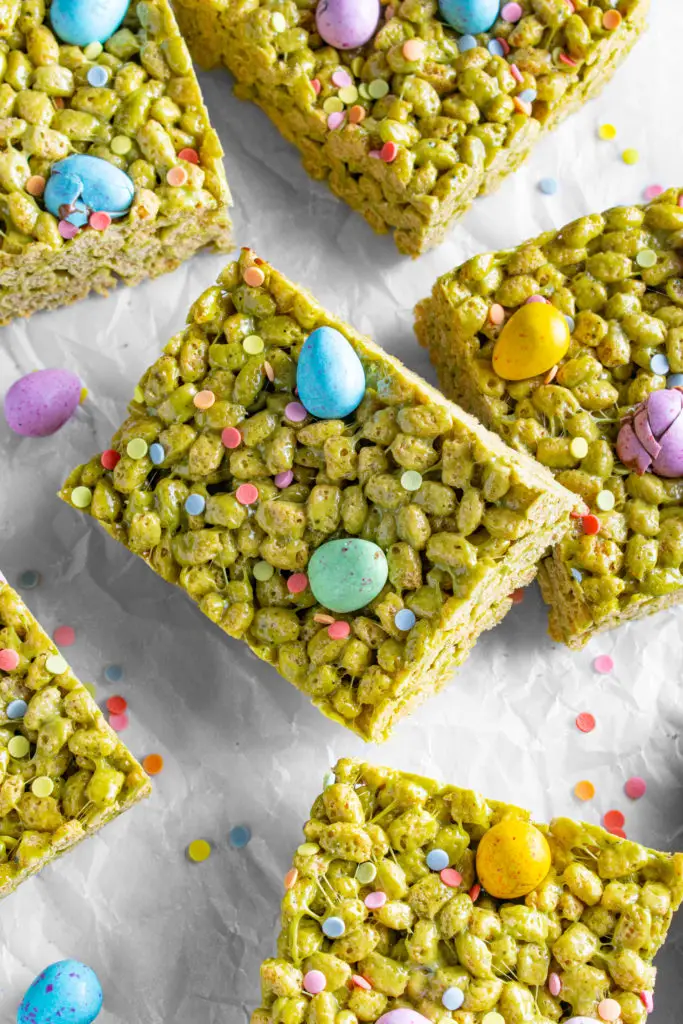 Yield: 8 large pieces
Brown Butter Matcha Rice Krispies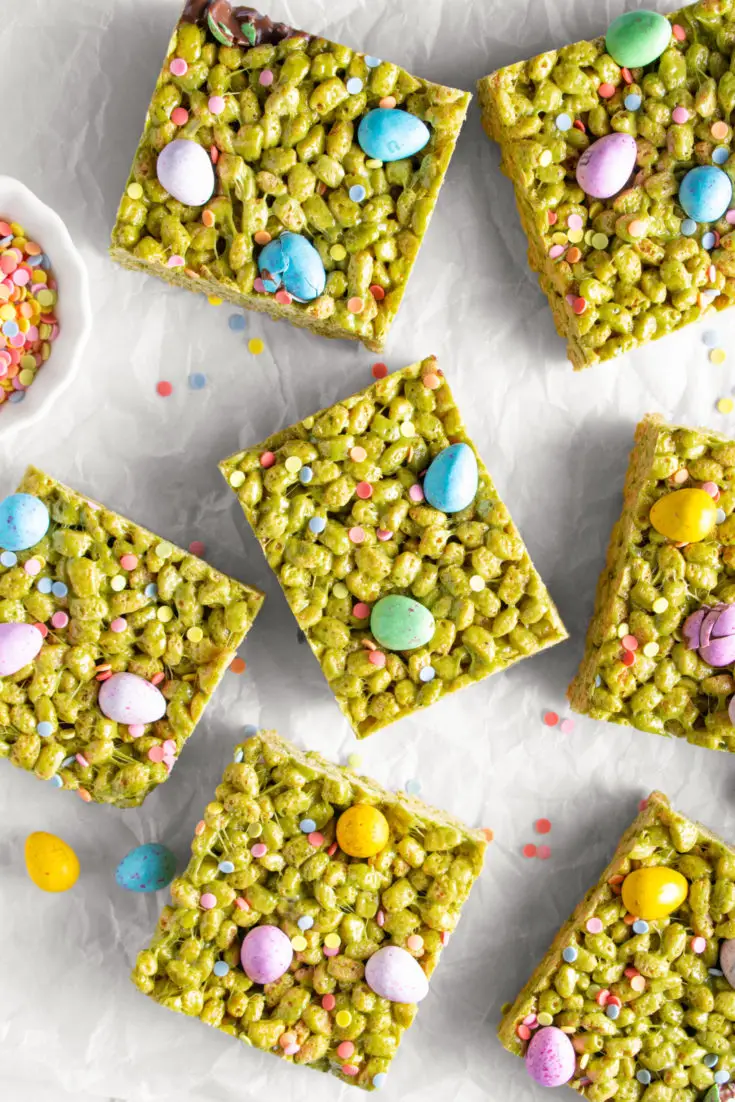 The Brown butter and matcha bring an earthy/nutty twist the classic marshmallow treat.
Ingredients
3 tbsp butter
4 cups marshmallows (300g)
6 cups of puffed rice / cereal
2 tbsp matcha
Optional: candy and sprinkles
Instructions
Prepare a 11x7 inch pan with parchment or light oil the sides.
Brown butter in a large saucepan over medium heat. It should look golden with toasted brown milk solids on the bottom. Allow butter to cool for 5min.
Add marshmallows to the same saucepan and melt over low-medium heat.
Once marshmallows are completely melted and smooth, add matcha and stir.
Add the puffed rice or cereal of your choice and mix until evenly coated.
With a slightly greased spatula, press the warm mixture into the prepared pan. Top with candy or sprinkles if desired. Allow to set before removing from the pan to slice. Best served slightly warmed (~10s in the microwave).
More Recipes