These Lychee Jelly Cream Puffs are filled with lychee cream and a disk of lychee jelly. So light, fruity, and GORGEOUS! The mixture of textures creates such a unique cream puff experience.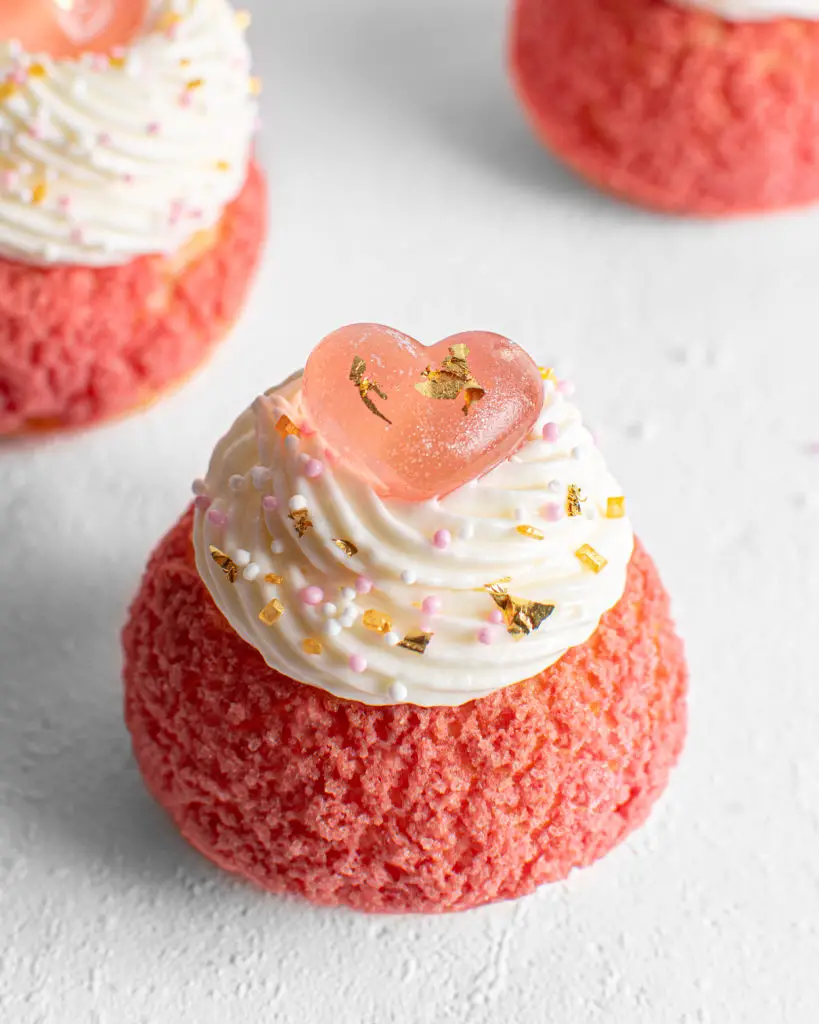 Inspiration behind the puff
A lot of my baking projects are inspired by my childhood. My mom didn't really let my brother and I have processed snacks as a child. Yes, I was starved of candy and McDonalds. Whenever I was able to get my hands on a lychee jelly cup at school or a friend's house, it was always a special treat.

Fast forward and I'm now living in Berlin, Germany. The city isn't exactly known for their selection of exotic fruits. HOWEVER, I found fresh lychee for the first time ever at my local Netto supermarket! This instantly sparked some inspiration and I really wanted to use it in a recipe. This recipe works perfectly with canned lychee as well.

This lychee jelly cream puff is not only delicious and unique, it even resembles an actual fresh lychee fruit! This was completely coincidental.

Choux au craquelin recipe adapted from Emma's Goodies on YouTube.
What is Lychee Jelly?
Lychee jelly is a lychee flavored coconut jelly snack that can be found at most asian supermarkets. The ones I had growing up came in small plastic cups. Most brands use a vegan seaweed extract as the gelling agent instead of gelatine. Some products have cubes of coconut gel similar to those that can be found in bubble tea. These firm cubes do not melt and need to be strained out as an additional step.
Below are examples of lychee jelly that should work:
Lychee Jelly Amazon CA
Lychee Jelly Amazon DE
Lychee Jelly Amazon US
*not affiliated and I receive no commission
Key Ingredients
Eggs: when making the pâte à choux(cream puff batter) make sure your eggs are room-temp and well beaten. More often than not, I only use about 80-90% of the beaten egg to achieve the perfect batter consistency.
Lychee: Lychee or Litchi has a floral tart flavor that is often compared to roses. I used around 12 large fresh pitted lychees, but have tested the recipe again using half a can of drained lychee. They both create the same final product.
Lychee jelly: any lychee coconut jelly product should work. Some have cubes of coconut gel, but you can strain them out as they do not melt properly. Optional: mix in food coloring/silver pigment when melted.
Whipping cream: I used 30% fat cream. You want the cream to be very cold. I recommend chilling the bowl as well as the whisk attachment of your beaters. This will ensure that you are able to achieve a pipe-able stiff whipped cream. Optional: stabilize the cream with gelatine.
General Tips
When making the pâte à choux batter, it is crucial that your flour/water/butter dough is not too hot when you stream the eggs in. Otherwise you will have little pieces of cooked egg in your batter!
The pâte à choux needs to be the perfect consistency. Mix in ~80% of the beaten egg. Test your batter by lifting up your spatula, the batter should form a V and break off. If it is too stiff, add a bit more egg, mix, then do the V test again.
The piped batter should hold its shape slightly. Try to pipe as tall as you can. Don't worry too much about getting them uniformly round, they will round out because of the cookie topping.
If your lychee jelly disks are slightly too big to fit in the creampuff, use a circle cutter to size them down.
Food coloring is optional, but I recommend using gel coloring to produce a more vibrant end product.
You're going to have leftover lychee puree. Mix it with some soda water and a sprig of thyme for the most refreshing lychee soda!
MORE FRUITY RECIPES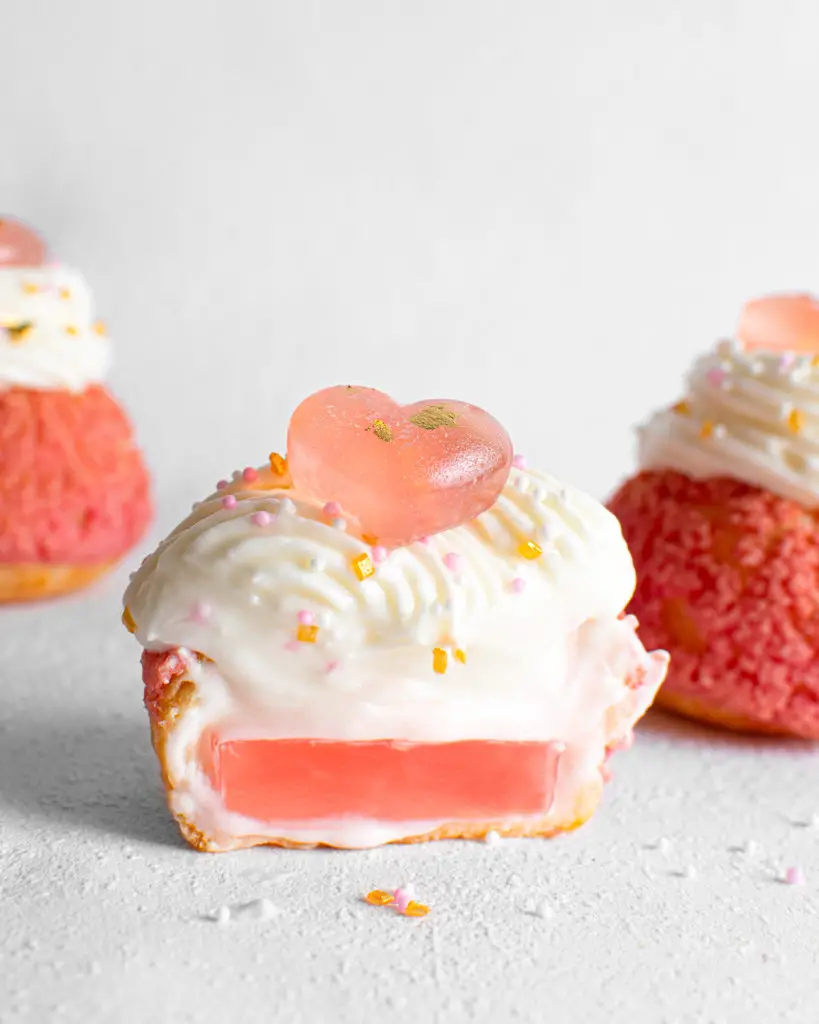 Yield: 8 medium cream puffs
Lychee Jelly Cream Puffs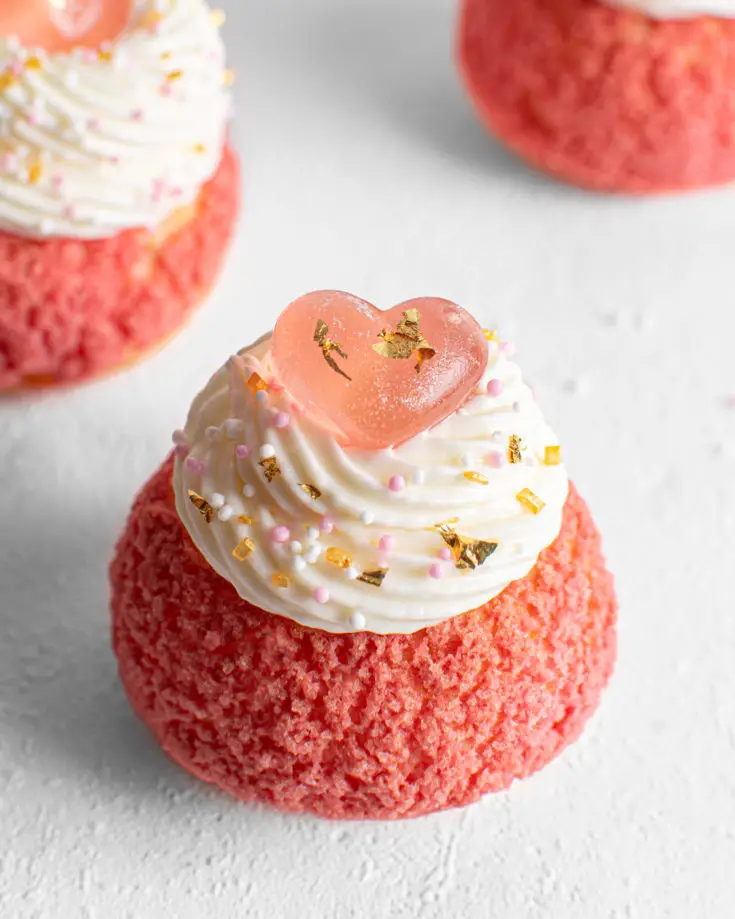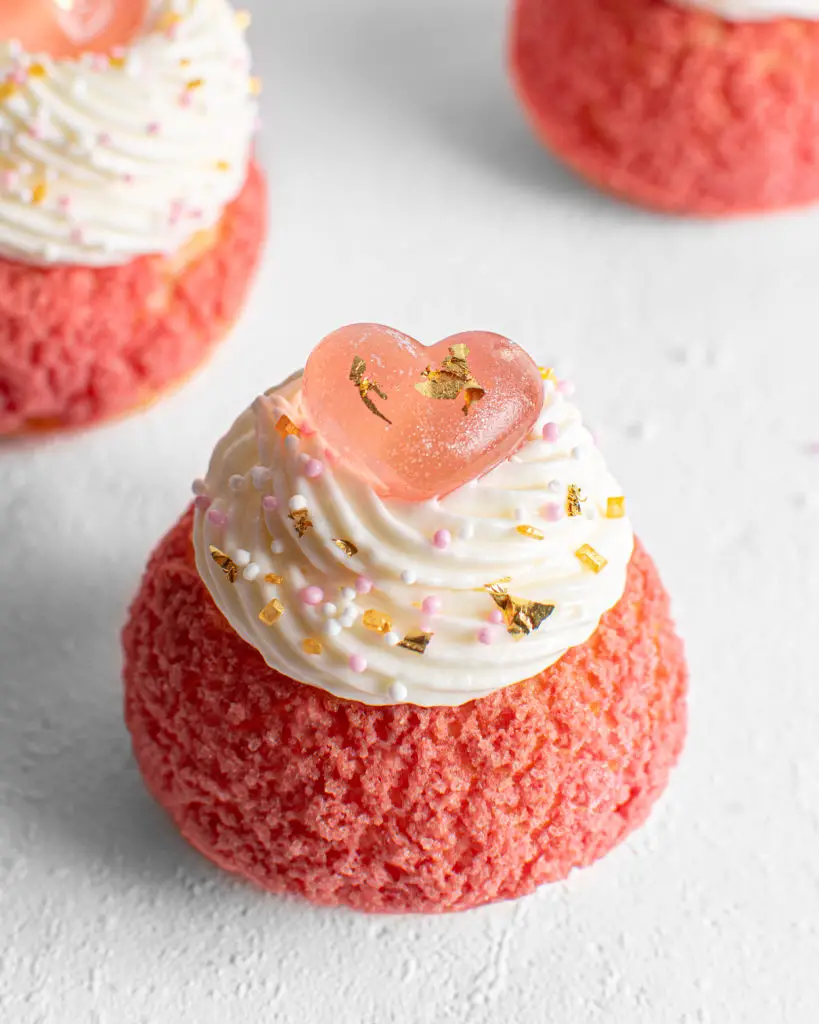 Choux aux craquelin shell filled with lychee cream and a disk of lychee jelly.
Choux/Craquelin adapted from Emma's Goodies
Total Time
1 hour
20 minutes
Ingredients
Craquelin
50g butter
50g flour
50g sugar
Optional food colouring
Pâte à Choux
70g water
50g butter
60g flour
2 medium eggs
Lychee Cream / Filling
400g cold heavy whipping cream
2 tbsp Sugar
Powdered sugar (to taste)
12 lychees (fresh or canned both work)
2 tbsp lemon juice
4 large lychee jelly cups or 8 small cups
Instructions
Make jelly disk filling. Melt lychee cups in a saucepan over low/med heat, being careful not to burn. Optional: add food colouring/pigment. Then pour evenly into a lightly greased muffin pan and optional silicone mold. *note: you may need to cut jelly to fit in the creampuff.
Make lychee puree: Blend lychee until smooth. Cook blended lychee with 2 tbsp lemon juice and 2 tbsp sugar over low/medium heat in a small saucepan. Cook until thickened, then refrigerate. Optional: pass through a sieve for a smoother texture.
Make craquelin by creaming butter and sugar together. Then mix in flour. Roll the dough between two pieces of parchment and allow to firm up in freezer.
Make choux by heating water and butter until it just starts to boil. Turn off the heat. Dump in all of the flour and mix vigorously with a rubber spatula. Continue mixing until the dough pulls away from the pan. Allow dough to cool for 10 min. Pour in 1 egg and mix QUICKLY until fully incorporated. It will look weird to begin with but keep mixing! Beat the last egg in a separate bowl, and stream the egg a little at a time into the dough while mixing(you may not use all the egg). Test the consistency by dipping in and lifting up your spatula, it should form a V and break off. The dough should also be able to hold its shape. If too stiff, add a bit more egg.
Pipe batter onto parchment lined sheet. Cut circular same-sized disks out of chilled craquelin dough and place on top of eat mound of batter. Bake at 200C for ~20 min. Remove and allow to fully cool.
Whip cold cream with sugar til thick. Add 3 tbsp chilled lychee puree and whip until stiff.
Assembly: Cut off tops of puffs and pipe in lychee cream mixture halfway, place in a lychee jelly disk and then fill to top with more lychee cream. Then pipe whipped cream swirl and decorate.
More Recipes