This super easy Nectarine Galette is the perfect summer dessert. The recipe is easily adaptable for almost any stone fruit that you have on hand. The crust is buttery, flakey, and delicious. Try this recipe with peaches, apricots, or plums!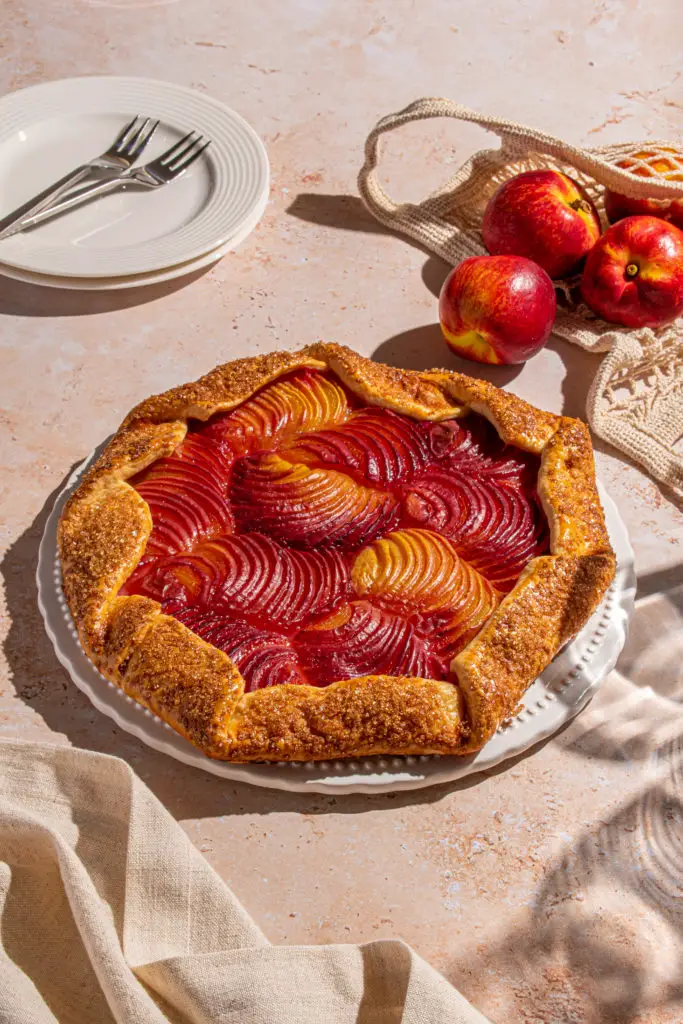 What is a Galette?
Galette is a term used in French cuisine that categorizes various flat round or freeform pastries, baked on a baking sheet. They are similar to a pie or tart, but requires less effort and no real pan, tin, or baking form.

There are plenty of fillings that range from savoury to sweet with ingredients such as fresh fruit, vegetables, cheeses, and more. Feel free to get creative.
Galettes are adaptable
You can virtually make a galette out of anything! The crust/pastry dough stays the same, however this recipe is easily adaptable to almost any stone fruit. For juicier fruits like berries, toss them in a bit of cornstarch prior to baking to make sure that the juices set nice and thick.
Why do we want cold ingredients?
When making pie or pastry dough, you want to keep your ingredients(mainly butter) as cold as possible. The goal is to create pockets of butter which then create steam and lift in the oven, which yields a much flakier final result.

If the butter is warm, it combines with the flour making it harder to work with, and a tougher final texture.
How to make Galette dough
Galette dough is basically the same as pie dough. All you need is flour, butter, and enough water to allow the dough to come together.

This is most easily done in a food processor. Pulse everything except the water, in a food processor until a very rough sandy consistency. Then drizzle the water in a little at a time while pulsing until a dough starts to form. Do not add too much water or overmix the dough. It should look shaggy! Press together, wrap with cling film and refrigerate.
To make the dough by hand, make sure you start with very cold finely cubed butter. Add everything except the water to a large bowl and rub the butter in the flour until course crumbs. Working quickly, you want to break the butter pieces down as much as possible. Add the ice water a little bit at a time, mix, wrap, and refrigerate!
Key Ingredients
Flour: This recipe calls for all-purpose flour.
Butter: You want the butter as cold as possible! Finely cubing the butter will help the dough come together quicker.
Water: Iced water to prevent butter from melting.
Nectarines: I found some lovely nectarines at my farmer's market, but get creative and try this recipe with different fruits! Mine were slightly underripe, so to combat this, you can drizzle some honey or brush with jam to add a little extra sweetness.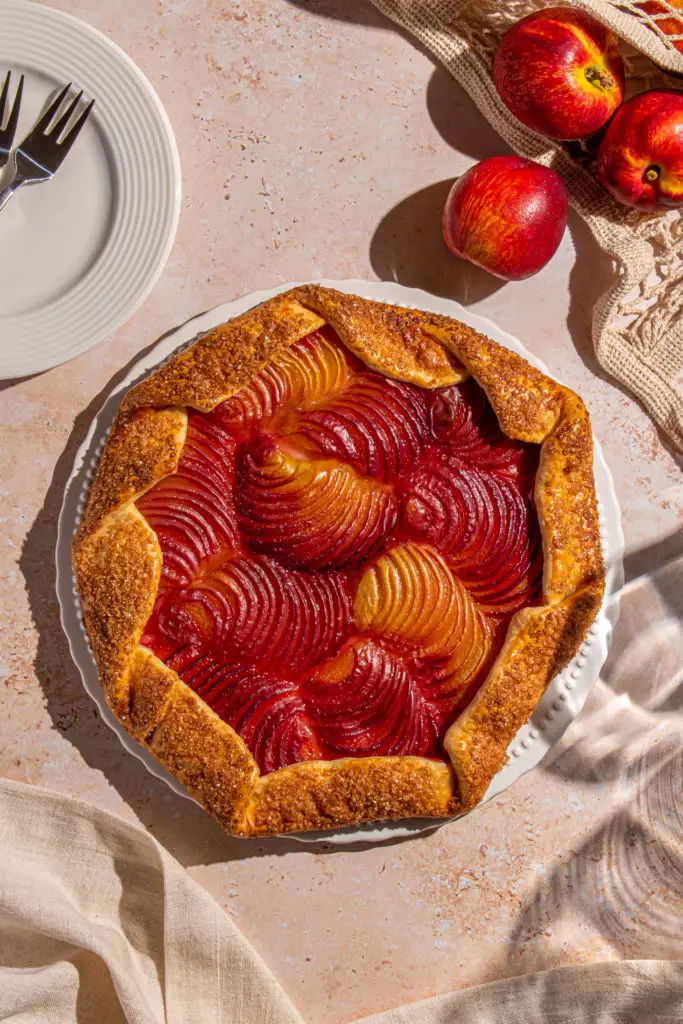 Tips!
Cold ingredients: Cold butter and iced water are the key to a flakey crust!
Forming the galette: Roll and form your galette on a piece of parchment. This will make transferring your galette super easy!
Egg wash and sugar your crust: This is what really makes your galette look gorgeous. Prior to baking, brush the edges with beaten egg and sprinkle generously with raw sugar/turbinado sugar. Extra sweetness, crunch, and a gorgeous sparkle.
Baking: Don't be afraid to bake the galette even longer. You can't really over-bake this recipe and baking it longer only allows it to become even more golden brown and crispy. Also, the fruit juices will seize up more and become thicker, win-win!
Serving: You can enjoy the galette warm with a big scoop of vanilla bean ice cream. It's decadent!
More Recipes That You Would Like
Lychee Jelly Cream Puffs
Strawberry Green Tea Tiramisu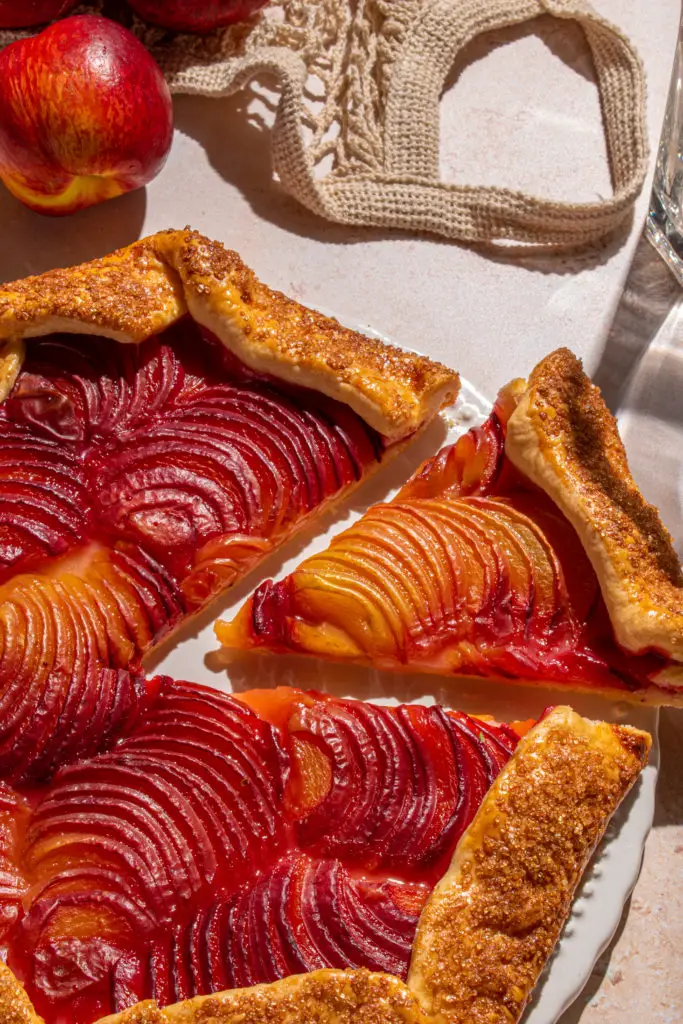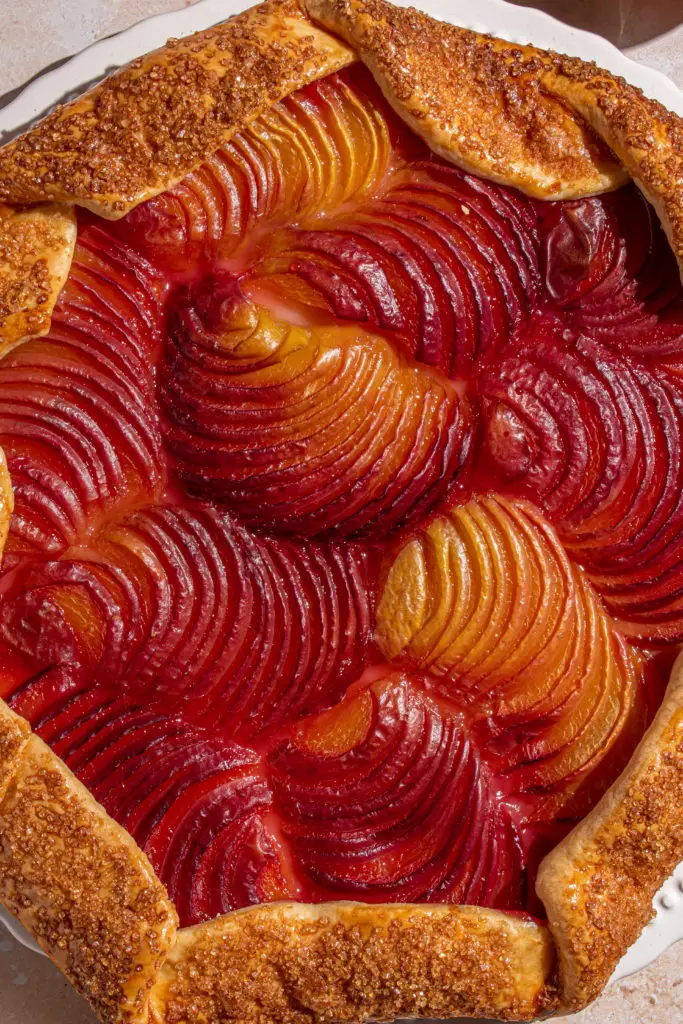 Yield: 6
Nectarine Galette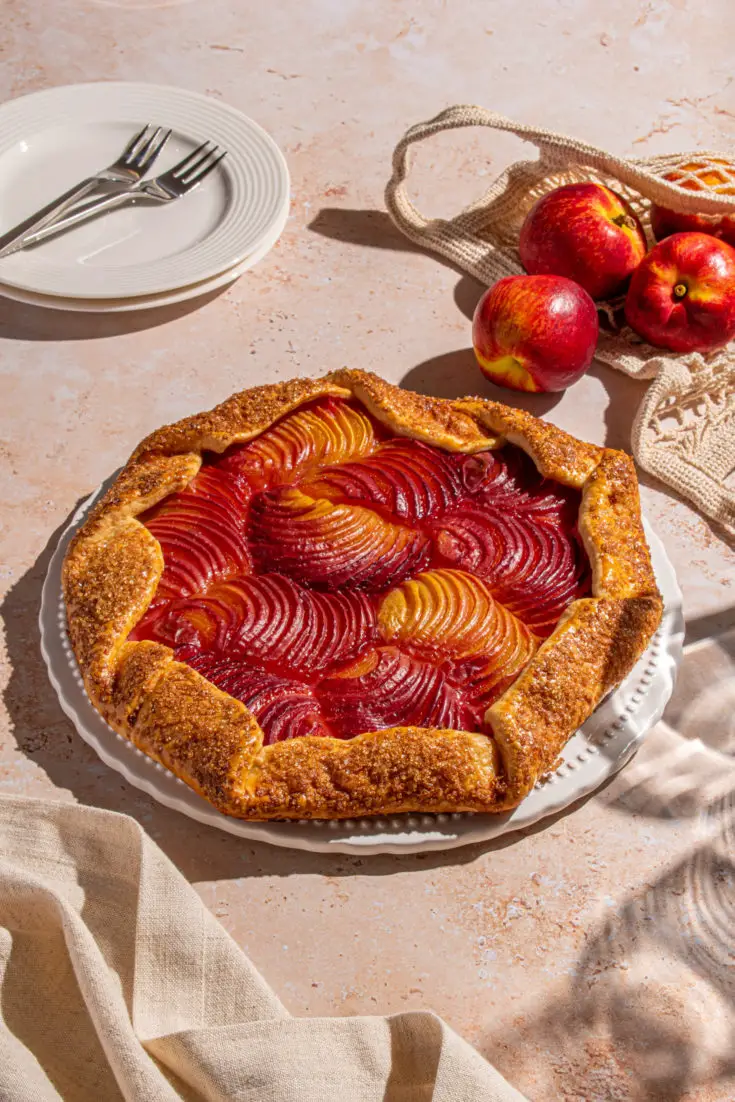 This super easy Nectarine Galette is the perfect summer dessert. Try it with peaches, apricots, or plums!
Total Time
1 hour
20 minutes
Ingredients
160g flour
120g cold cubed butter
~60g ice water
Pinch of salt
5-8 medium nectarines
1 egg
Raw sugar
Optional: Honey or jam to glaze
Instructions
In a food processor, mix together flour, salt, and cubed butter until a sandy consistency. Pulse while slowly streaming in ice water. Wrap dough in plastic wrap and refrigerate for at least one hour.
Preheat oven to 400F or 200C. On a piece of parchment, roll dough out into 15inch diameter rough circle. Optional: use something round or a bowl to trim the dough into a clean circle.
Pit and slice the nectarines. Place sliced fruit onto the dough in a decorative pattern in the centre leaving a ~2inch border. Fold excess dough inwards. Brush the edges with beaten egg and sprinkle with raw sugar.
Transfer the galette to a baking sheet by lifting the parchment paper. Bake for 50min or until edges are beautifully golden brown.
Allow to cool to room temperature or enjoy warm with a scoop of ice cream. Optional: melt honey or jam and brush over the fruit to add extra sweetness and shine.
More Recipes