This Strawberry Green Tea Tiramisu is a crowd favorite! Not your average tiramisu. The combination of tart strawberries with aromatic green tea makes for the perfect cool summer treat.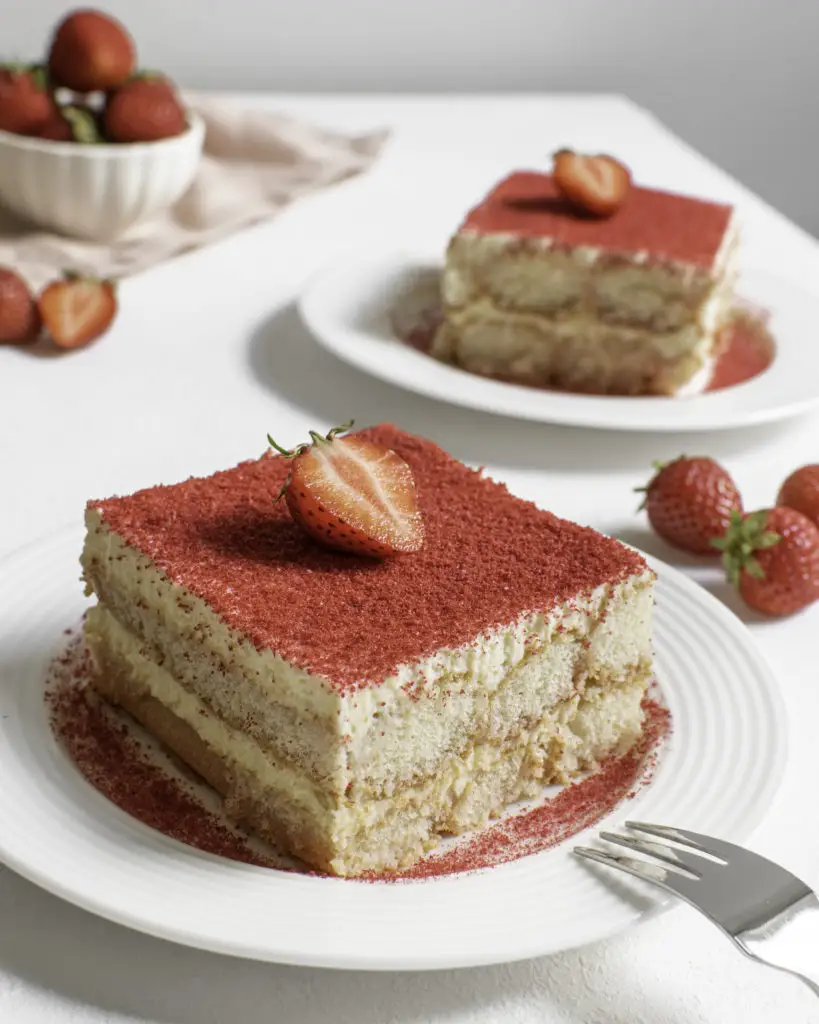 A fruity twist on a classic
There's only two types of people in the world:
The ones that entertain, and the ones that observe… I'm so sorry for that Britney Spears reference. People either LOVE coffee or despise it. Unfortunately I'm the latter. To me coffee tastes like final exam season. Nothing quite like the anxiety spikes and dry mouth that coffee brings forth. All of this being said, tiramisu is pretty dang good. But why not put a spin on it? This fruity rendition is perfect for summer.
Matcha tiramisu, mango tiramisu, and now my favorite variation, strawberry green tea tiramisu. The ladyfingers are dipped and soaked in a heavily concentrated green tea / strawberry juice mixture, which adds a fresh burst of tart flavor. We then dust the top of the tiramisu with freeze dried strawberry powder. Somebody RUDELY pointed out that the powder on top resembles hot cheetos dust and now I CAN'T UNSEE IT.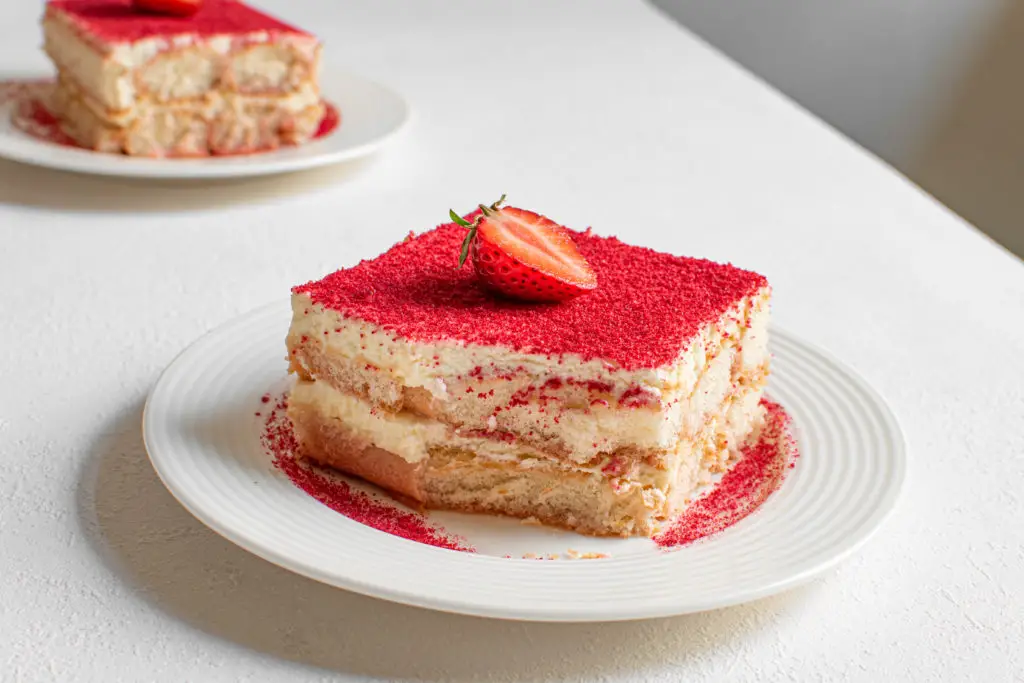 General tips
Try using a piping bag to spread the mascarpone layer. It will help you get even layers!
Refrigerate the tiramisu for minimum 1 hour, but ideally overnight. This allows the ladyfingers to soften and fully absorb the strawberry juices. Better texture and flavor! We're not here for cruncy ladyfingers… unless prefer that.
Reduce the strawberry puree thoroughly for a stronger flavor. Make sure to include the lemon juice, it accentuates the strawberry taste.
Whipped cream needs to be cold in order to fully whip up. In my experience, whipping them a chilled bowl placed on top of some ice yields the best result. But this depends on many variables. Just make sure the cream is cold!
Frozen strawberries works perfectly in this recipe. Feel free to even switch up the fruit! Raspberry, mango, and even blueberry could work well!
Final thoughts
This is quite a simple dessert to make but yields amazing results. The recipe should take 30 minutes to fully assemble, but make in advance to allow appropriate refrigeration time. I made this during the summer and it was the perfect dessert on a hot day. It's cool, tart, and fruity. What else can you ask for?

Like always feel free to comment or shoot me a DM if you have any questions 🙂 Enjoy!

More Fruity Recipes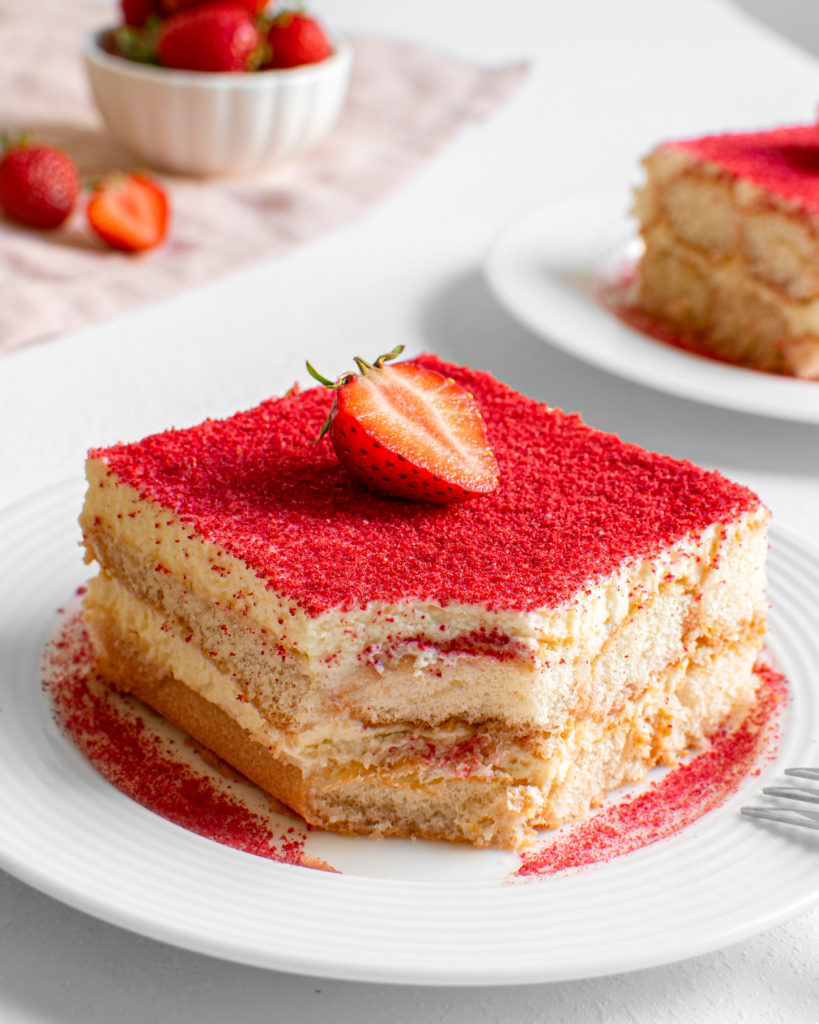 Yield: 6 servings
Strawberry Green Tea Tiramisu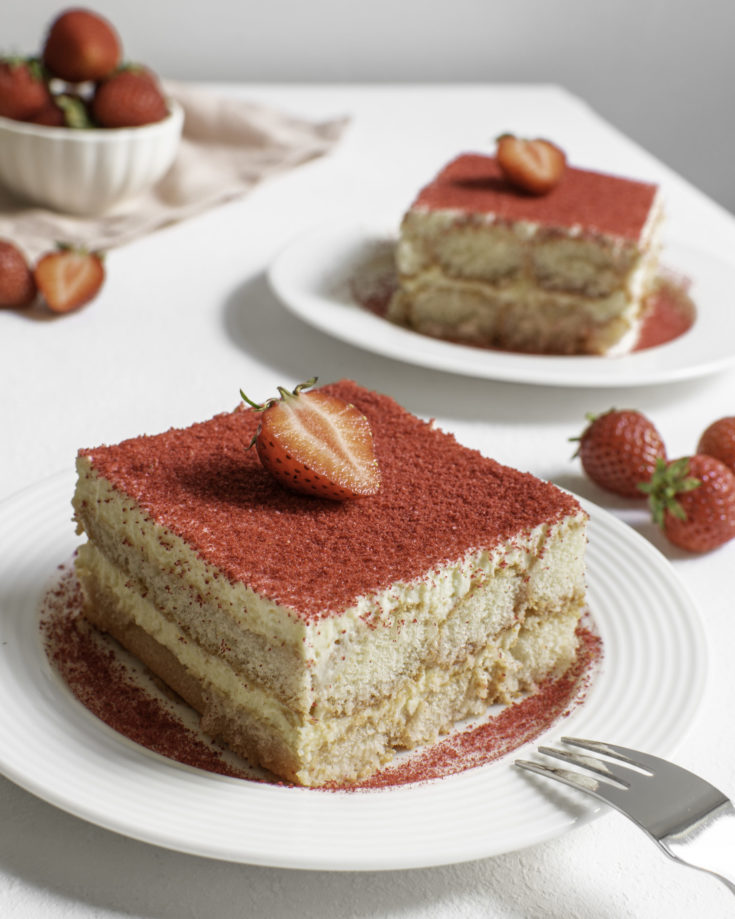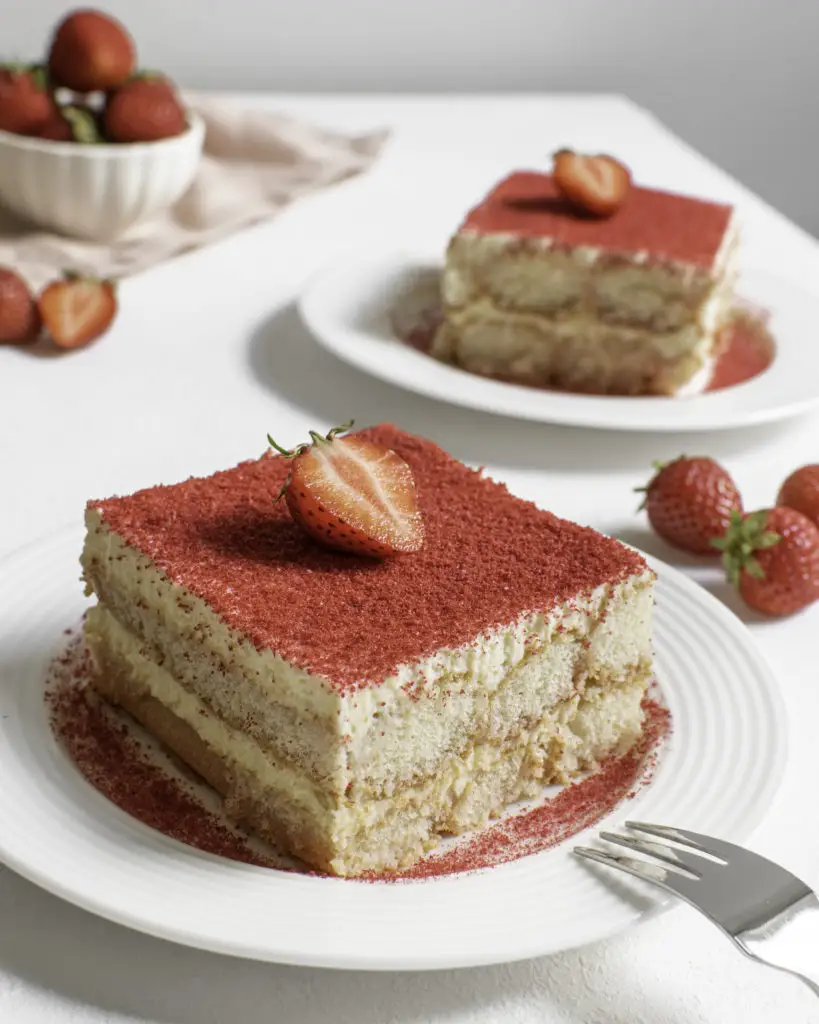 Ingredients
~10 medium strawberries
2 tbsp lemon juice
2 tbsp sugar
½ cup strong cooled green tea
1 cup whipping cream
1 cup room temp mascarpone
¼ cup granulated sugar
1 tsp vanilla extract
~24 ladyfingers
optional dried strawberry powderChocolate/sprinkles for decor
Instructions
To make the strawberry sauce, cook strawberries, lemon juice, and sugar until thickened. Then strain out seeds/pulp and allow to cool.
Whip cream to stiff peaks.
Work together the mascarpone, sugar, and vanilla. Then gently fold in whipped cream.
Mix green tea and strawberry sauce together in a shallow dish. Then dip each ladyfinger in for a few seconds and line the bottom of a 8x8" square pan with ladyfingers.
Alternate layers of dipped ladyfingers and mascarpone cream. Chill in the fridge for a few hours then dust with strawberry powder when serving.
More Recipes