These Matcha White Chocolate Frog Donuts are too cute! The yeasted dough creates a fluffy and airy interior. Easy matcha white chocolate "glaze" that brings a delicate and earthy sweetness.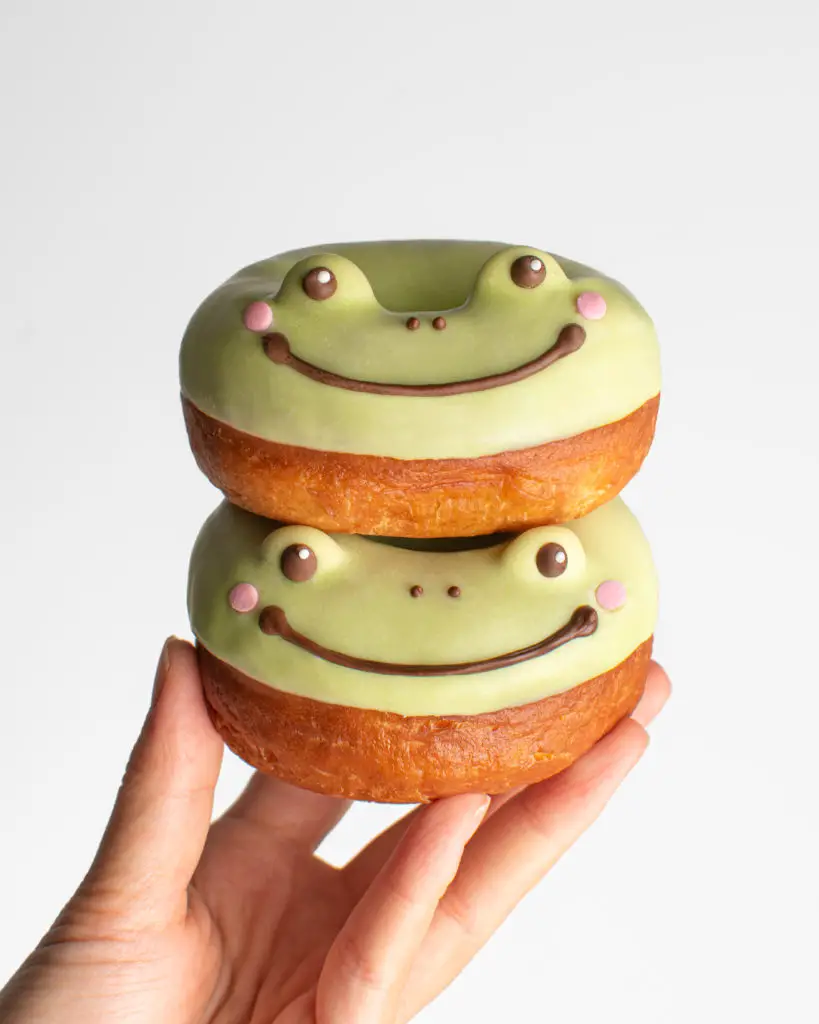 The "Froggy" CRAZE
So froggy cakes🐸🍰 have been so trendy lately and I'm obsessed. How do we feel about these froggy donuts🐸🍩? They're insanely fluffy and covered in matcha white chocolate.
Like many others, 2020 was the year of TikTok for me. I first stumbled upon the "frog" trend on TikTok. There's a whole community of frog lovers who make videos of frog shaped food like boba, cookies, and bread. Then recently, the frog cakes from @oracle_bakery started going viral! Adorable little buttercream frogs perched on the edge of a cake that's painted with buttercream mushrooms.

I also drew some inspiration from a Japanese bakery, Floresta which is well known for their animal character donuts.
LET'S TALK MATCHA
Matcha is a Japanese finely ground green tea powder. I'll be honest, it's expensive! However, when it comes to baking, don't get too caught up in quality. I use the cheapest culinary grade matcha that I can get my hands on. Feel free to add more or less depending on your preference. However, if you add less matcha, make sure to supplement with some green gel coloring! We still want them to look like frogs 🙂
How to achieve maximum cuteness
Here are some tips to get your froggy lookin' its best:
Use a knife or skewer to poke holes for the eyes. Dip smarties candy or almonds in chocolate and insert them into the donut sockets. Allow this chocolate to fully set before proceeding. You don't want the eyes to fall out during the final dip 🙂
Melt white chocolate over a double boiler for the most even heating and no lumps!
If your white chocolate is too thick, add a bit of coconut oil to it to thin it out. Also if chocolate is TOO thin, you may need to do a double dip! (double-dipping is okay in this case, but nowhere else)
After dipping, hold the donut upside down over the bowl and tap/shake off the excess chocolate to ensure a nice smooth surface.
For the facial details, fill a ziploc baggie or piping bag with your melted chocolate. Snip a small hole, it'll be easier to control. Slow and steady when piping!
General tips and frying
Roll your dough out between parchment! I personally dislike flouring surfaces. It GETS EVERYWHERE.
I hardly deep fry things, but I made an exception just for these! I like to place the cut out donuts onto square pieces of parchment just big enough to hold the donuts. This prevents you from messing up the shape, sticking, and you're able to drop the whole donut AND parchment into the oil. The parchment detaches naturally in the oil, just fish it out.
ALWAYS fry a test donut to ensure that the oil is at an okay temperature. The donut should be golden brown and fluffy/fully cooked through. The ideal frying temperature is around 360/380F or 182/193C. But in case you don't own a thermometer, definitely check your oil temp! Nothing worse than deep frying all your donuts to an ideal golden brown and they're ALL RAW in the middle.
Final thoughts
This project should take you a good full afternoon. So plan accordingly!
Making donuts and deep-frying can seem intimidating, but what are your alternatives? Baked donuts? some would argue to the grave that cake donuts ARE NOT DONUTS. I'm indifferent. There is no donut discrimination here. Nonetheless, if you make cake donuts, you can still use the same techniques to achieve a cute frog character.

PLEASE PLEASE PLEASE tag me if you make these! I want to see all your cute froggy personalities. You can always reach out if you have any questions 🙂
MORE MATCHA RECIPES
Brown Butter Matcha Rice Krispie Treats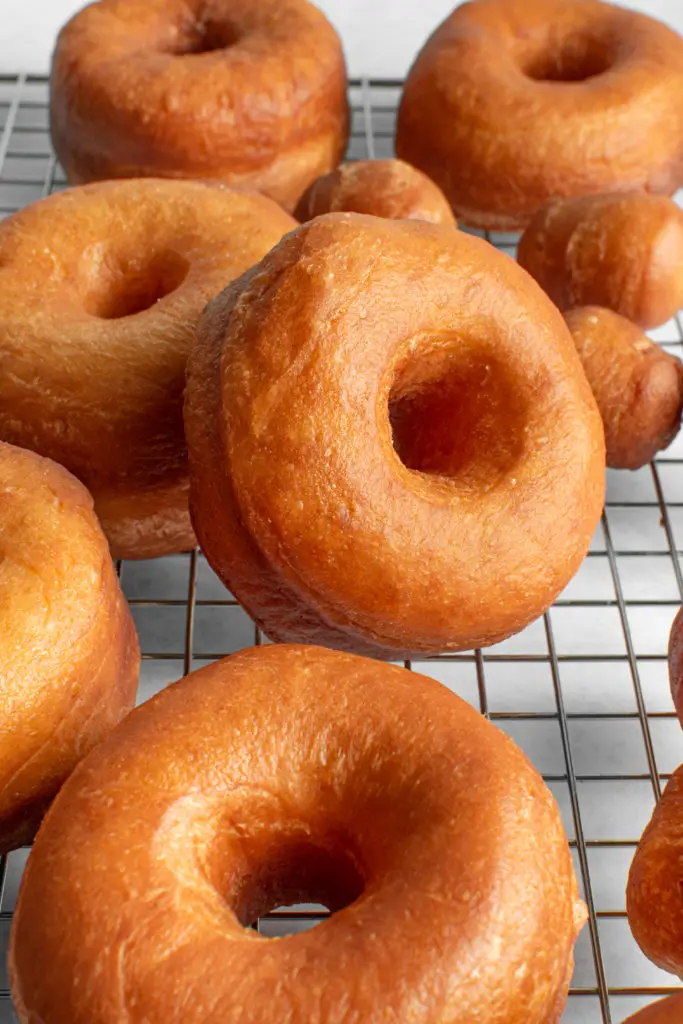 Yield: 8 Large Donuts
Matcha Frog Donuts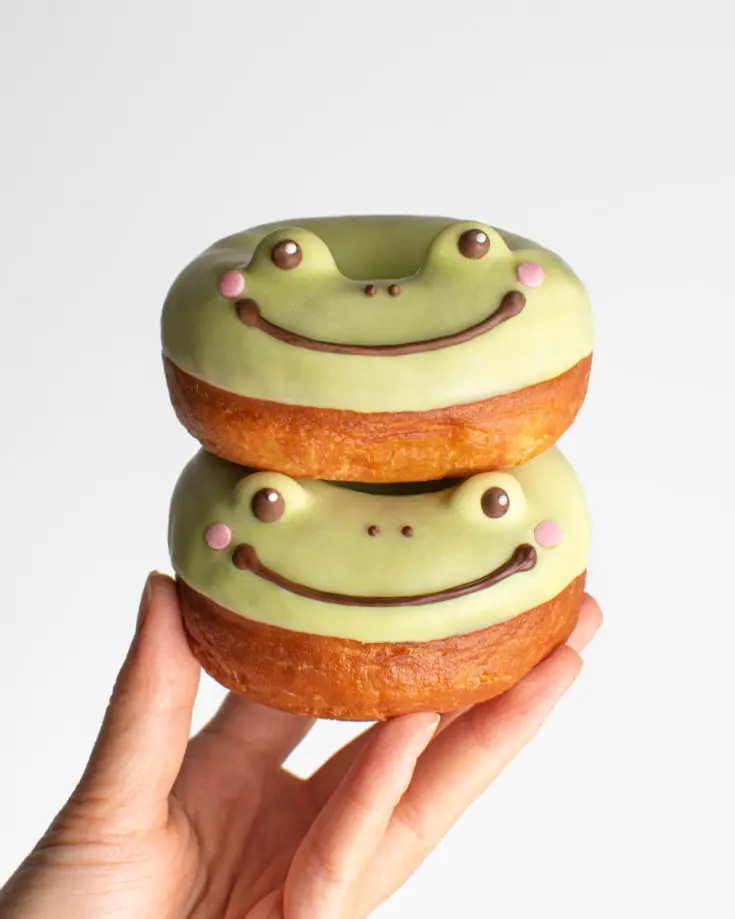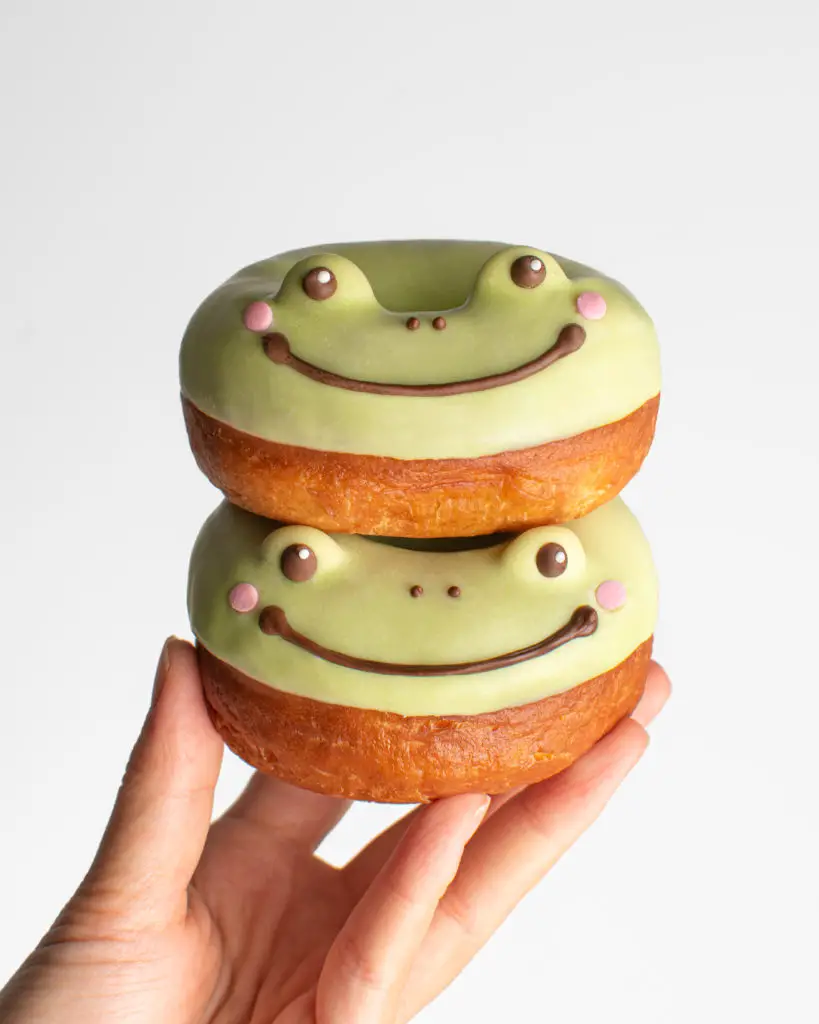 Prep Time
1 hour
30 minutes
Ingredients
280g flour
1 ½ tsp instant yeast
2 tbsp sugar
125g warm milk
1 room temp egg
50g room temp butter
Sunflower oil
200g white chocolate
1-2 tbsp matcha to preference
16 Smarties candy or almonds
Chocolate/sprinkles for decor
Instructions
For the dough, whisk together slightly warmed milk, yeast, and sugar. Wait until foamy. Then add flour and egg. Mix with dough hook or you can also do this by hand. When the dough starts to come together, mix/knead through the softened butter. The dough should be elastic. Place dough in an oiled bowl covered and let rise for 1 hour or until doubled in size.
Once dough has risen, roll and cut out roughly 8 medium donut rings. Place on parchment and cover with a cloth to proof one last time for 30 min.
Fry in sunflower or any neutral oil, flip when golden. Fry one first to test oil temperature. The donuts should be golden brown and fully cooked through. Remove from oil and allow to cool on paper towel.
For the chocolate coating, melt white chocolate over a double boiler and whisk in matcha.
For the frog, dip Smarties candy or almonds into chocolate and insert into donuts to make eyes. Allow to set. Dip the donut halfway into the chocolate and allow excess to drip off. Finally, pipe on mouth, eyes, and nose with milk chocolate. I used sprinkles for the cheeks and highlights of the eyes.
More Recipes