This Matcha Tofu Cheesecake requires no baking and is bursting with matcha flavor. The addition of tofu is subtle and adds a delightful nuttiness. All you need is a food processor or blender, so easy! Perfect for a summer party or gathering.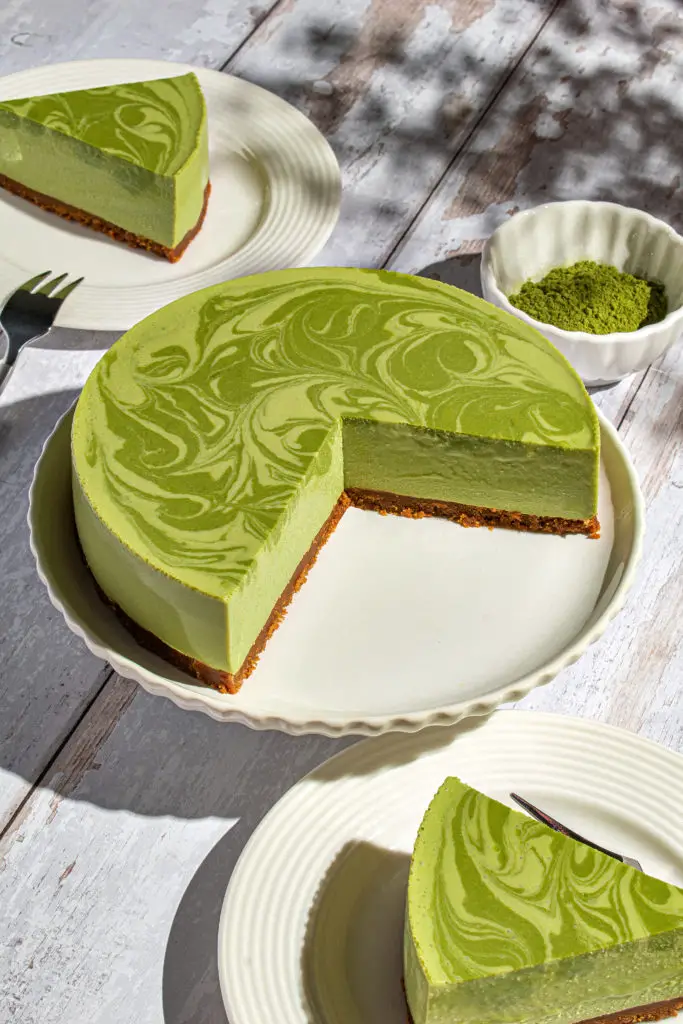 Let's Talk Matcha
Matcha is a Japanese finely ground green tea powder. I'll be honest, it's expensive! However, when it comes to baking, don't get too caught up in quality. I use the cheapest culinary grade matcha that I can get my hands on.
There is a total of 3 tbsp of matcha in this recipe. The matcha flavor is prominent but feel free to add more or less depending on your preference.
Why Tofu?
Many Japanese desserts like mochi donuts(pon de ring) and dango include tofu. It helps with the texture. In this recipe, tofu adds a subtle nutty soy flavor but also helps keep the cake's structure and stability.
Use the firmest tofu that you can find. Anything too soft like silken or soft tofu have too much water content and will cause the cake to fall apart.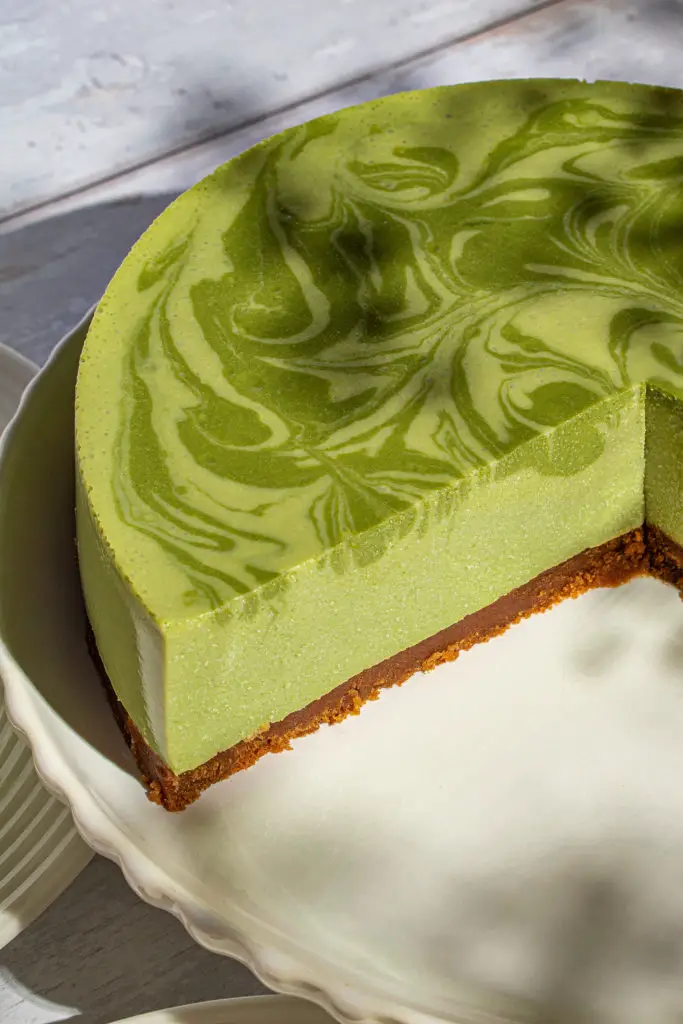 Biscuit Crust
For the crust, you can use your biscuit of choice. Just make sure the ratios are nearly the same: 130g of cookie crumbs mixed with 70g of melted butter. I used Lotus biscuits because I think that the flavors compliment the matcha. Other cookies/biscuits that you could use for the crust are graham crackers, Oreos, or even pretzels for a savoury twist!
For even more flavor, try browning the butter before adding to the crumbs. Browning the butter is not necessary but it sure does add an amazing nutty, toasty, and earthy flavour.
Melt butter over low heat
Turn the heat up to medium high. It'll start to boil and bubble. Don't be alarmed! This is normal, but be careful of splatters.
The butter will foam and little brown bits will start to form on the bottom. Stir constantly.
Once the the brown bits turn golden, STOP and remove from the heat. You can easily burn browned butter.
Allow to cool and you're ready to use it in this recipe!
Air Bubbles and How to Get Rid of Them
Since the cheesecake mixture comes together in a blender, there could be a lot of bubbles from mixing(depending on your blender/speed). To solve this, pass the batter through a sieve before pouring into the cake pan, this will pop all the bubbles.
Key Ingredients
Ideally start with room temperature ingredients.
Cookies: I used roughly 15 Lotus biscuits. Feel free to use another biscuit or cookie.
Butter: Unsalted butter
Cream Cheese: I used full fat cream cheese but you can substitute with others.
Tofu: Please use firm tofu. Silken and soft tofu have high water content.
Cream: The cream that I used was 30% fat but should work with others.
Sugar: White granulated sugar
Matcha: Any culinary grade matcha
Gelatin: This is the main setting agent for the cheesecake. Please do not omit. I used powder form but you can try with gelatin sheets while using appropriate conversion suggested on packaging.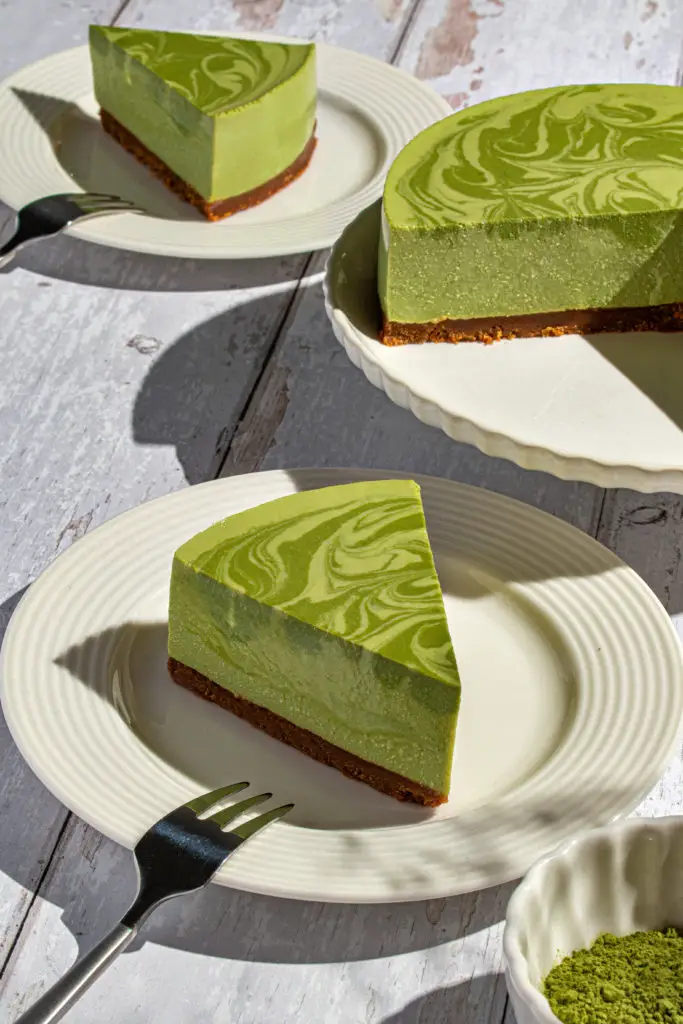 Tips!
Unmoulding: Aim your hairdryer at the sides of the springform pan. This will melt the edges a little allowing an easy release and clean sides. Alternatively, you can dip a towel in warm water and hold it against the sides.
Blender or food processor: I used a high powered blender for this recipe. However a food processor will work as well. The stronger the appliance, the smoother and more velvety your cheesecake will be.
Line the bottom: Lining the bottom of your pan will allow you to easily remove the whole cake from the pan.
Swirling: When creating the swirls on top, evenly space spoonfuls of the darker matcha mixture on top. Use a long skewer or chopstick and make figure 8 swirls. Don't think too much and don't overdo it, otherwise you will mix it too much and you won't get defined swirls.
More Recipes That You Would Like
Brown Butter Matcha Cookies
Brown Butter Matcha Rice Krispies
Matcha White Chocolate Frog Donuts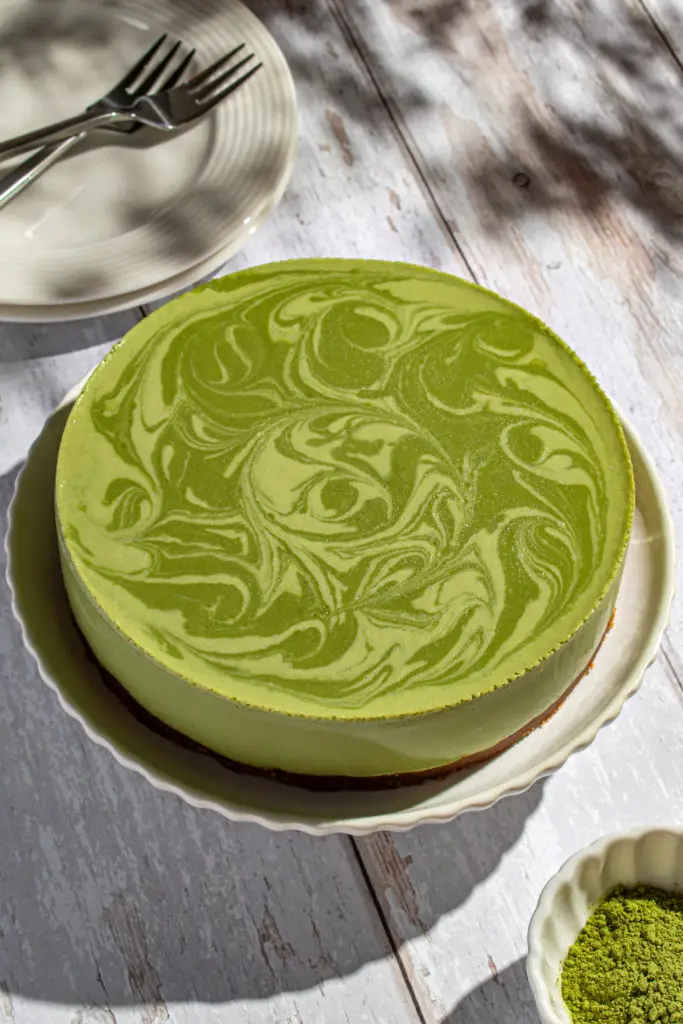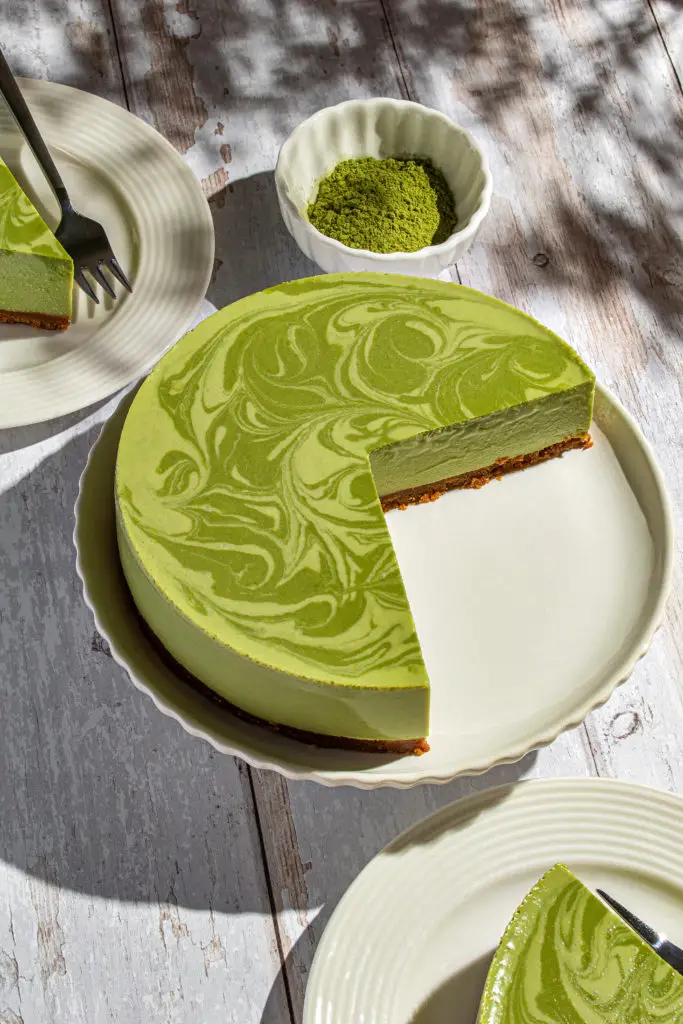 Yield: 8 servings
Silky Matcha Tofu Cheesecake (no-bake)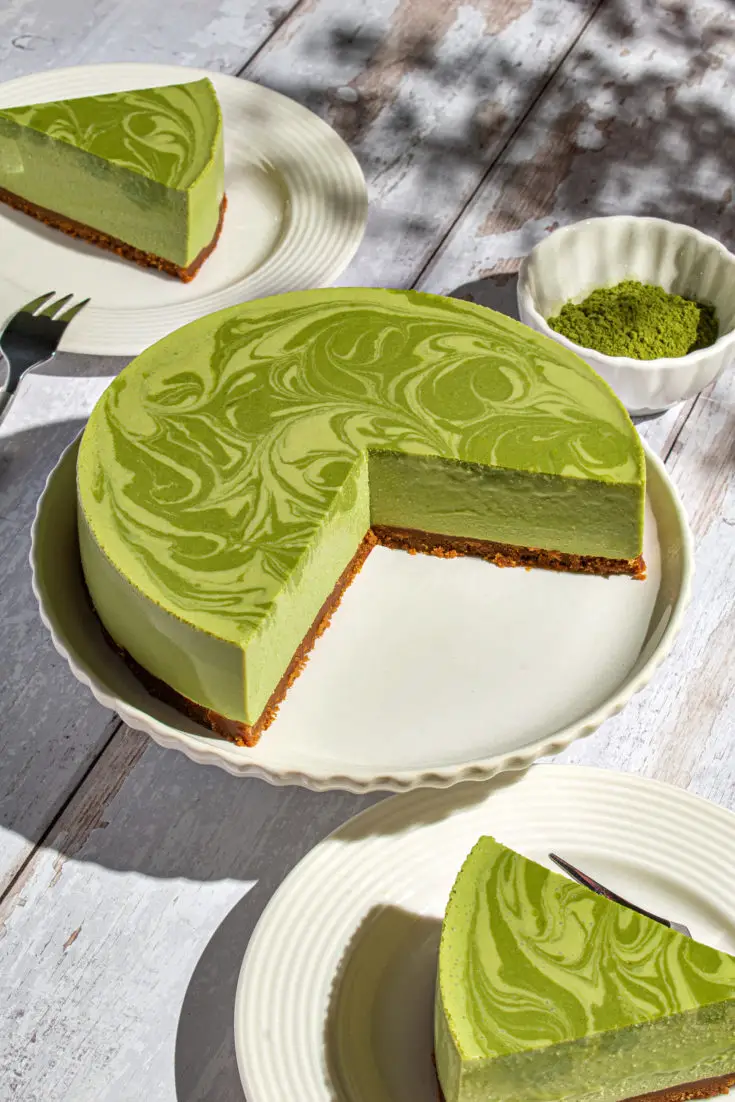 This Matcha Tofu Cheesecake requires no baking and is bursting with matcha flavor. The addition of tofu is subtle and adds a delightful nuttiness. All you need is a food processor or blender. Perfect for a summer party or gathering.
Ingredients
Crust
130g Lotus biscuits or any other biscuit (~15 cookies)
70g Melted butter
Cheesecake Mixture
300g Cream cheese
200g Firm tofu
200g Whipping cream
110g Granulated sugar
2tbsp matcha + 1tbsp for swirl
12g Gelatin powder
100g Water
Instructions
Line the bottom of a 16cm circular spring form pan with parchment.
In a blender or food processor, blend lotus biscuits to a fine crumb. Then add crumbs to a medium sized bowl and mix in melted butter. Press crust into an even layer in the pan.
In a small bowl, add water to the gelatine powder. Set aside for 5min to bloom.
To make the filling, blend together cream cheese, firm tofu, cream, sugar, and 2 tbsp matcha. Microwave gelatine mixture on short 5s intervals until melted completely. While blending, slowly stream liquid gelatine into the cheesecake mixture.
Pour the mixture into the cake pan over the cookie crust, while reserving around ½ cup in the blender, this will be used to create the darker swirls on top. Add 1 tbsp of matcha to the remaining mixture and blend until smooth. Spoon the darker matcha mixture on top and create natural swirls with a chopstick.
Allow to set in the fridge overnight.
To unmould, warm the sides with a wet warm towel or hairdryer and lift out with the parchment. Slice and serve. Enjoy!
More Recipes