These Black Sesame Brownies are fudgy, moist, and chewy. One of my proudest recipes. The browned butter pairs perfectly with the nutty black sesame paste. The flavors remind me of Chinese black sesame rice balls. So delicious!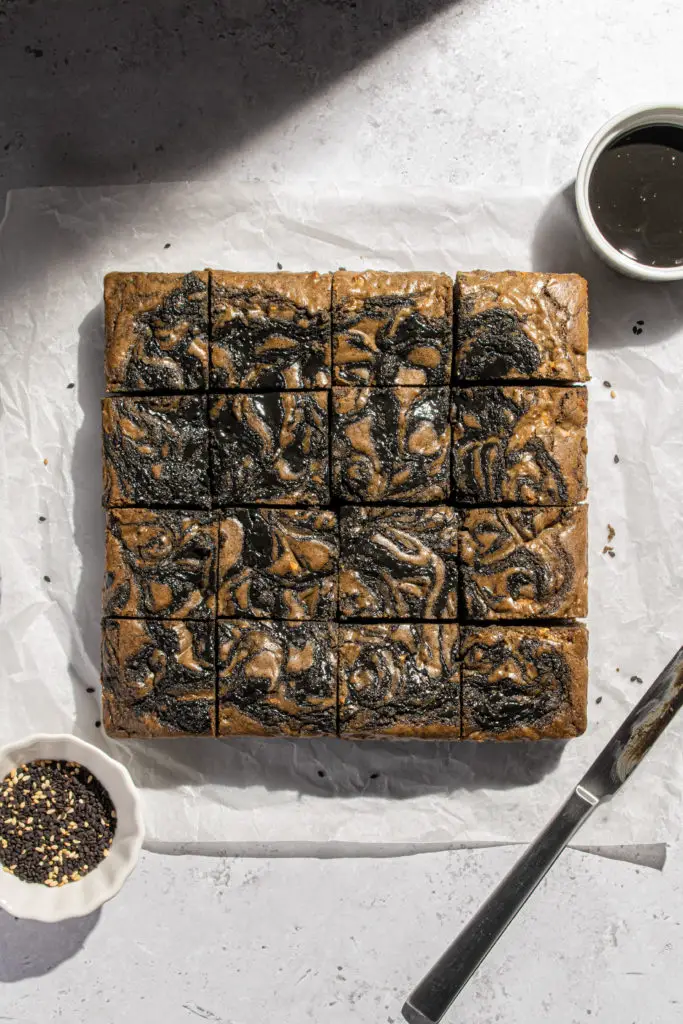 What is Browned Butter? How to make Brown Butter
Browning the butter is not necessary but it sure does add an amazing nutty, toasty, and earthy flavour. Here are my other recipes that use brown butter: Brown Butter Matcha Cookies, Brown Butter Matcha Rice Krispies. The best part of using melted/brown butter in a recipe is that you don't need to set your butter out in advance to soften! No creaming of butter and sugar either. Thus, you do not need a mixer for this recipe.
Melt butter over low heat
Turn the heat up to medium high. It'll start to boil and bubble. Don't be alarmed! This is normal, but be careful of splatters.
The butter will foam and little brown bits will start to form on the bottom. Stir constantly.
Once the the brown bits turn golden, STOP and remove from the heat. You can easily burn browned butter.
Allow to cool and you're ready to use it in this recipe!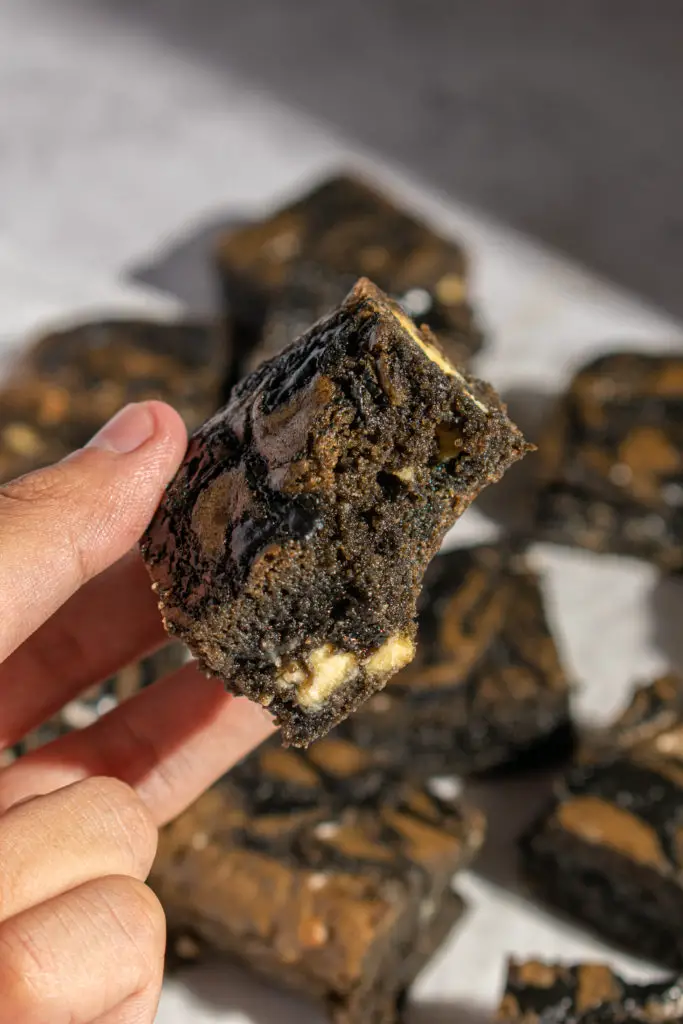 What is Black Sesame Paste (Tahini)?
Sesame paste, or also known as tahini, is a condiment made from toasted ground sesame. It is often used in Middle Eastern and Chinese cuisine. The closest substitute would be cashew or almond butter. They have similar texture, consistency, and nutty flavor.
While white tahini is more common than Black tahini, but both work in this recipe. Directions on how to make your own black sesame paste at home are below.
How to make your own Black Sesame Paste
Black sesame paste is very simple to make at home. Here is how to do it:
Weigh out your black sesame seeds. This recipe will require roughly 100grams (70g for batter, 30g for swirled top).
In a large shallow pan, toast black sesame until fragrant (around 5 min). This will bring out and intensify the flavors. Allow to cool completely.
Add cooled black sesame to a food processor or a blender. Blend until very smooth. The sesame will release oils and the mixture will slowly come together. If it stays lumpy, try drizzling in a bit of sesame oil.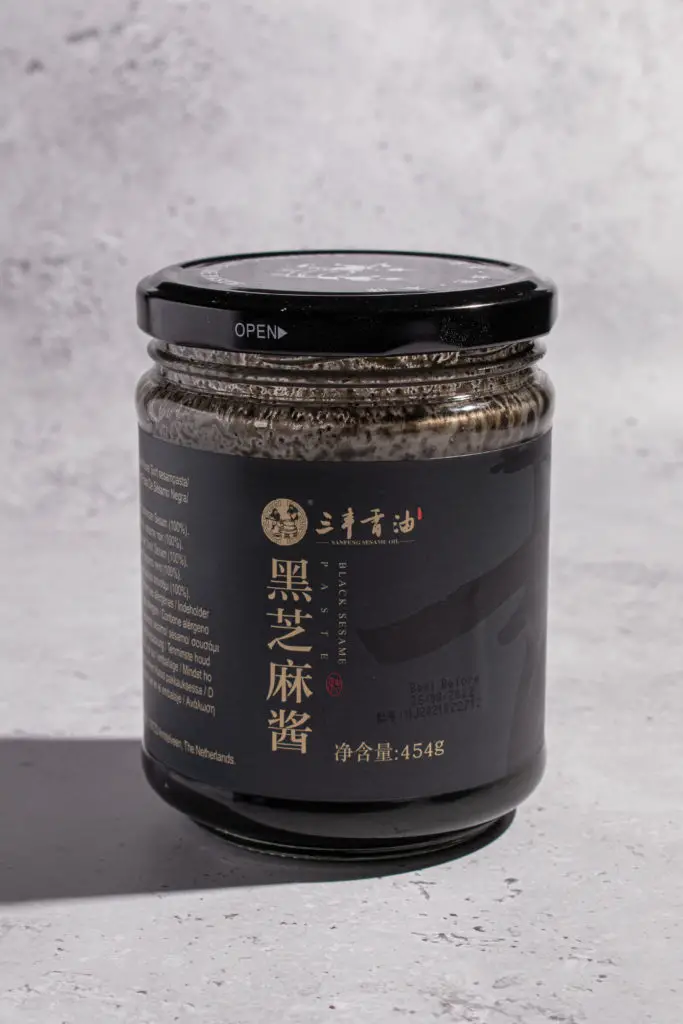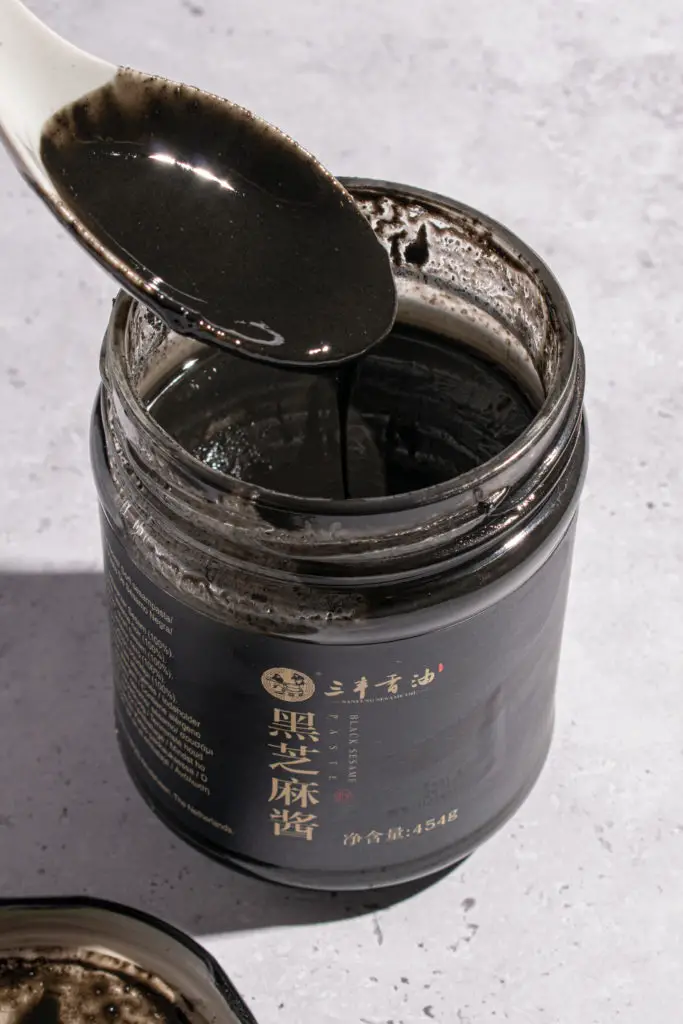 How To Get a Glossy Brownie Top?
The trademark of a good brownie is the glossy, crackly, and crusty top. To achieve this, whisk butter, sugar, and eggs until lightened in color and thickened.
Brownie or Blondie?
Technically, this recipe is neither a brownie nor blondie. Since the batter does not have chocolate in it (besides the chopped chocolate), the flavor is closer to a blondie. However, the dessert itself is not blonde in color because of the black sesame paste, so let's just call it a brownie. It's quite the paradox, really.
Key Ingredients
Black Sesame Paste: The true star of this recipe. Also known as tahini. You can find this in your asian supermarket or make it yourself. More info in the blog post.
Flour: All-purpose flour for this recipe.
Salt: A bit of salt helps balance out your dessert and brings complexity.
Baking Powder: Creates lift in the brownie so that it's not too dense.
Butter: Unsalted butter browned over the stove. Instructions above in the blog post.
Sugar: Combination of white granulated sugar and dark brown sugar. The white sugar helps give you crispy edges while brown sugar will give you a chewier product due to the molasses.
Egg: Room temperature preferred. Adding a cold egg to melted butter could potentially cause curdling. If you want to use a cold egg, add it to warm melted butter to even out temperatures.
Chocolate: I used a chopped white chocolate bar. I like to have texture variations of large chunks of chocolate and smaller shards in the batter. You can also use another type of chocolate or chocolate chips.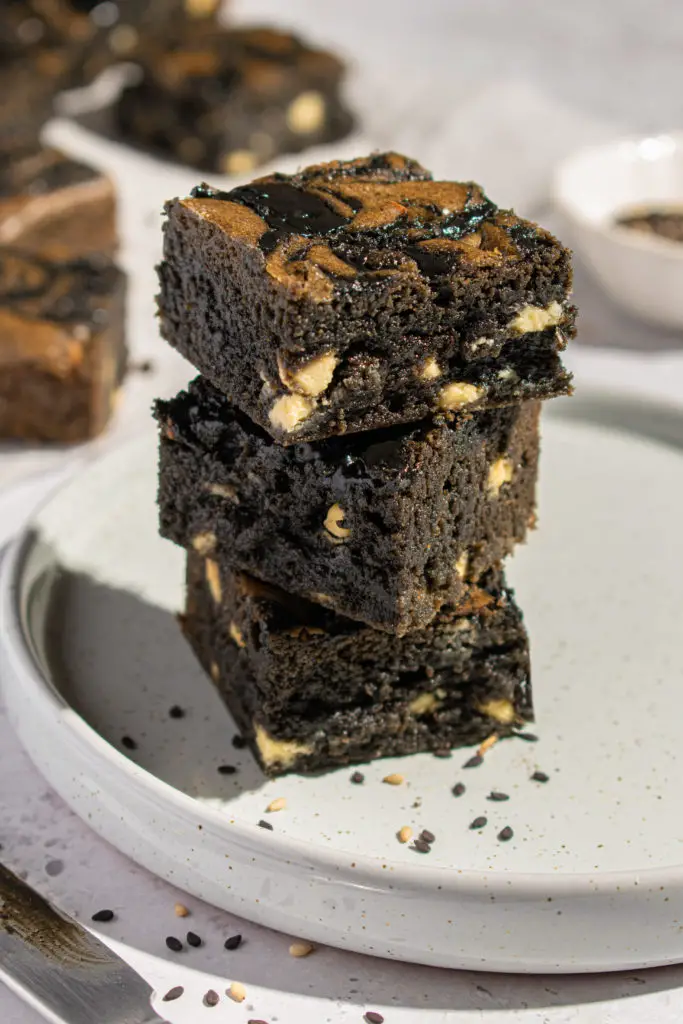 Tips!
Get creative! Use different types of chocolates or even a mixture of a few. Nuts, seeds, and even pretzels would also make a lovely addition.
Swirl swirl swirl: The black sesame swirl on top is optional. The best way to get beautiful swirls is to drizzle spoonfuls on top before baking. Then use a chopstick or back of a spoon to make beautiful figure 8 swirls. Don't overdo it!
Lining your pan: I like to line my pan with parchment paper while allowing a bit to hang over the pan on two sides. Once baked and cooled, lift the brownie out with the two flaps!
More Recipes That You Would Like
Brown Butter Matcha Cookies
Brown butter Matcha Rice Krispies
No-Bake Matcha Tofu Cheesecake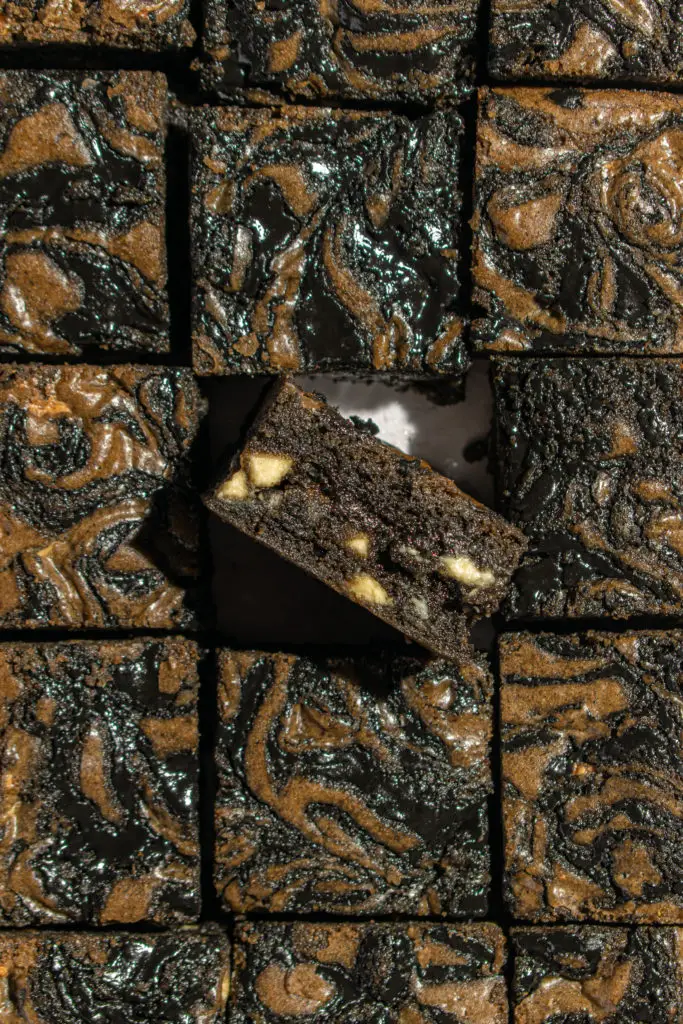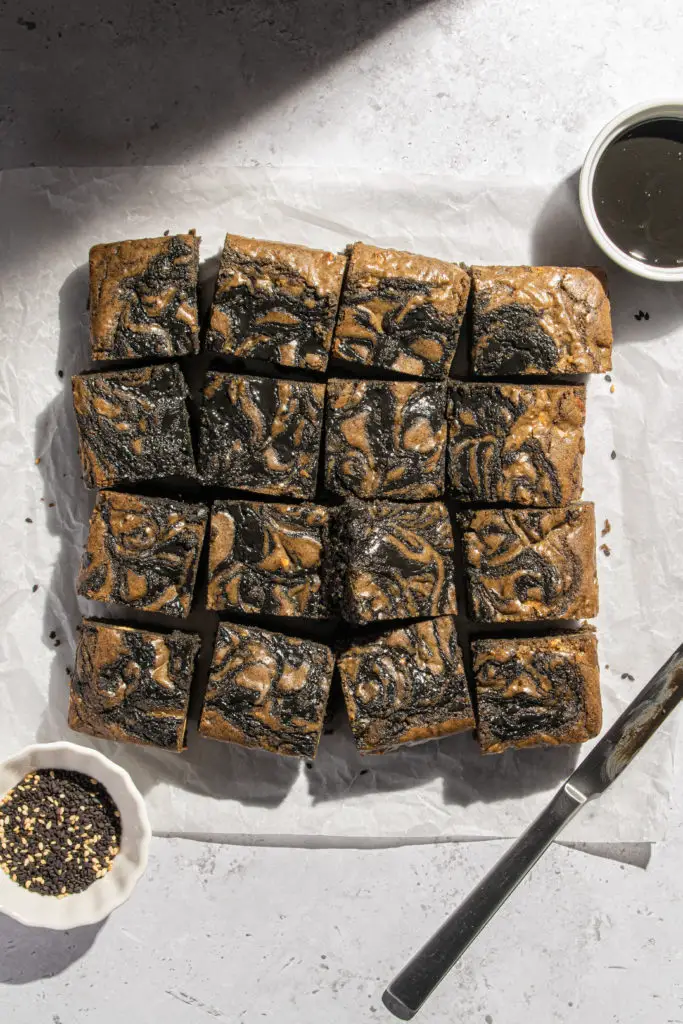 Yield: 9 large or 16 small squares
Moist Black Sesame Brownies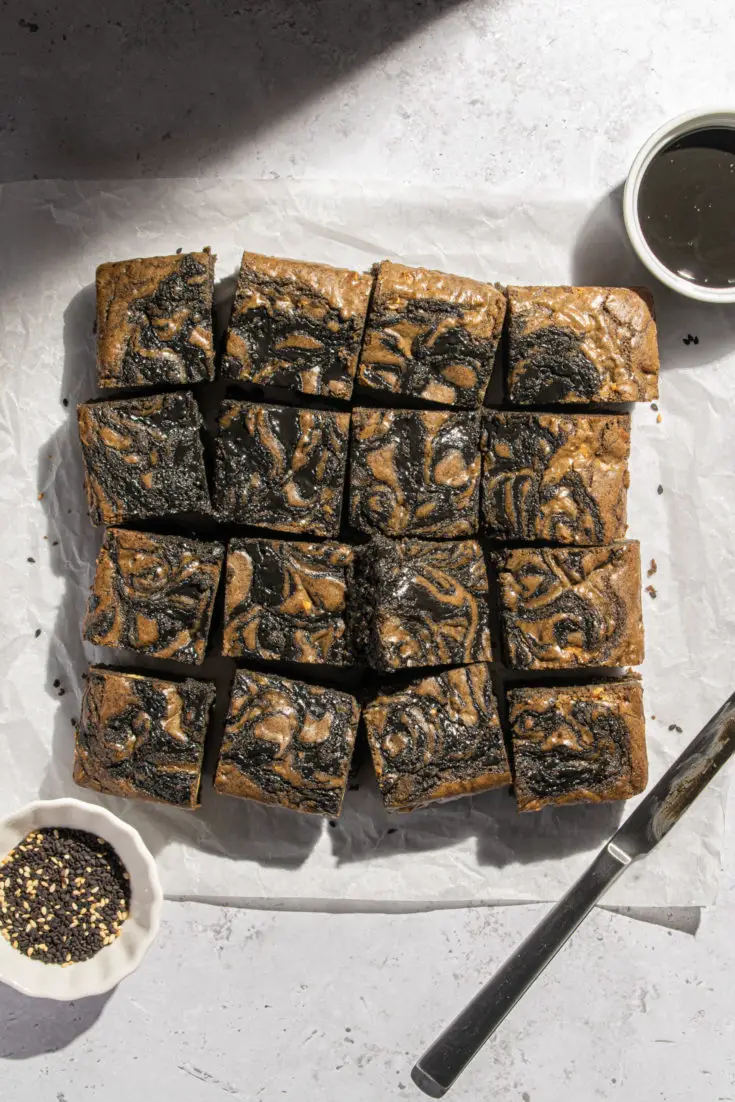 These Black Sesame Brownies are fudgy, moist, and chewy. One of my proudest recipes. The browned butter pairs perfectly with the nutty black sesame paste. These brownies remind me of Chinese black sesame rice balls. So delicious!
Ingredients
185g All-purpose Flour
1tsp baking powder
A pinch of salt
115g butter
130g dark brown sugar
100g granulated sugar
2 eggs
70g black sesame paste (tahini) + more for optional swirled top
100g chopped white chocolate
Instructions
Prepare a 8x8inch pan with parchment paper or butter.
Combine flour, baking powder, and salt in a medium bowl.
In a small saucepan, simmer the butter while stirring constantly. When butter has browned it should smell fragrant and have light brown flecks. Set aside the butter to cool.
Once cooled, in a large bowl, mix together butter, brown sugar, and white sugar. Crack in both eggs and whisk until very pale and the mixture has thickened slightly. Add black sesame paste and mix until combined.
Add dry ingredients to the wet and then fold in chopped chocolate. Press batter into a prepared pan. Optionally, add spoonfuls of black sesame paste to the top and swirl with a chopstick/toothpick.
Bake at 180C (350F) for 33min. Allow to cool completely before removing the brownie from the pan. Slice and enjoy!
More Recipes