These Hojicha Brown Sugar Boba Buns are soft, fluffy, and heavily flavored with Japanese hojicha. Made with a yeasty enriched dough, these buns are delicious, aromatic, and buttery. Optionally top them with tapioca boba pearls. They're even better when warm!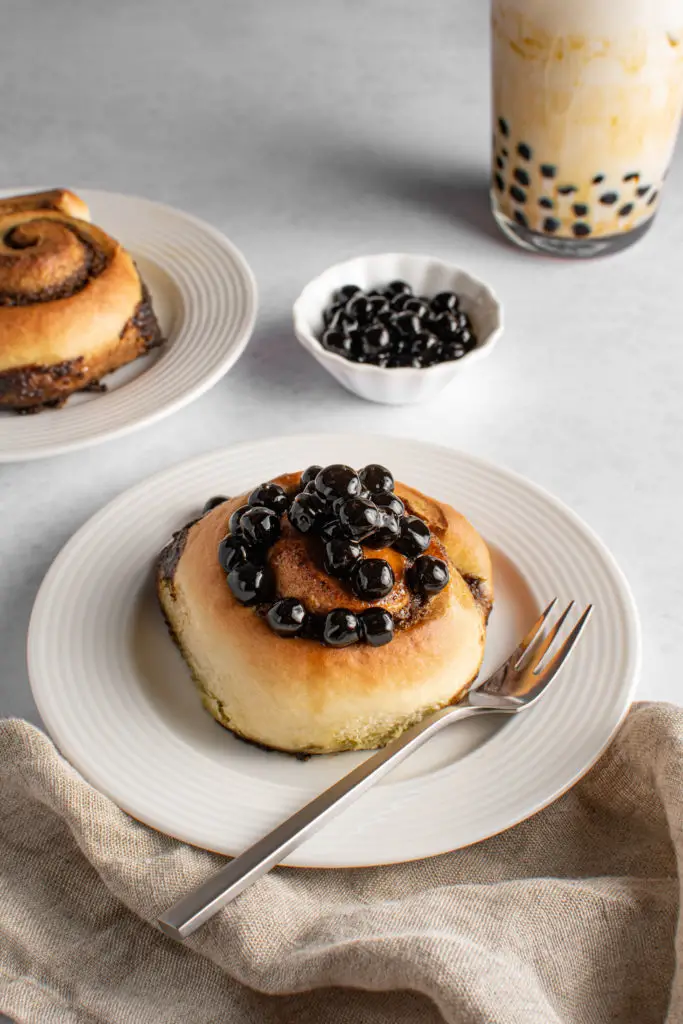 What is Hojicha?!
Hōjicha (焙じ茶, ほうじ茶) is a Japanese green tea. Often times compared to matcha, however the difference is that hojicha is roasted in a porcelain pot over charcoal. It is fired at high temperatures which turns the tea leaves dark brown and yields a deeper roasted flavor.
Hojicha is the new matcha
Just kidding, matcha can still sit with us. I am a huge fan of matcha and have multiple matcha dedicated recipes, but sometimes hojicha is just a fun alternative.
Trendy Japanese matcha cafe franchises like Nana's green tea and tsujiri usually offer hojicha flavored desserts which often times I prefer over matcha.
Key Ingredients
Milk: lukewarm milk will activate the yeast.
Yeast: I used instant yeast, but active dry yeast will work too.
Sugar: both white granulated and dark brown sugars are used in this recipe. The first 1 tsp of sugar is mixed with milk and yeast. The yeast needs this tsp of sugar to create carbon dioxide and allows our dough to rise.
Flour: all-purpose.
Egg: room temperature. If you for forgot to take your egg out, you can run it under some warm water.
Butter: room temperature. This is very important to ensure proper incorporation of ingredients.
Hojicha Powder: you can sometimes find hojicha powder at your asian supermarket, however it is more commonly available in loose leaf form. Read below to see how you can make your own powder.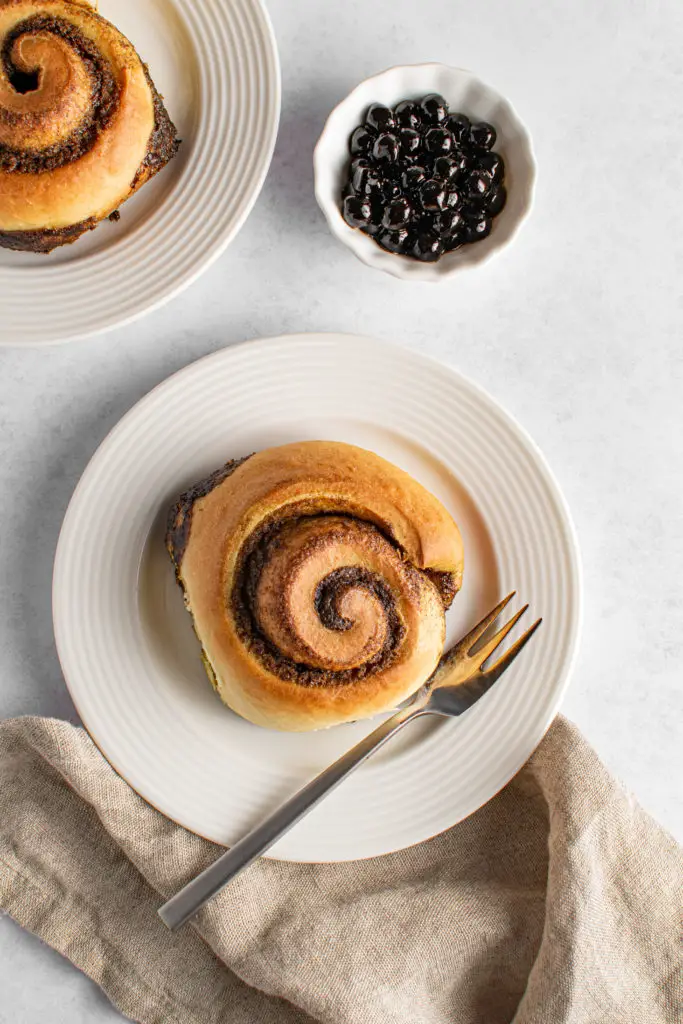 DIY your own Hojicha Powder
Hojicha powder is rare! However you can easily find loose leaf hojicha at an asian supermarket, Japanese store, or a specialty tea shop.
You can grind your own hojicha powder with a spice or coffee grinder. It works perfectly! Just add 2 tbsp of loose leaf tea into your grinder. Pulse and grind until you have a fine powder. Then use in recipe as needed.
Tips!
Use a dough hook: this makes mixing the dough an absolute breeze. It is totally possible to do this by hand though. Just be patient and knead until the dough is smooth and elastic.
Proofing the dough: place the dough in a warm spot. Make sure that the dough roughly doubles in size during each rising period. If the dough does not rise, check if the yeast used is still active.
Roll out the dough on a piece of parchment: I'm not a fan of flouring surfaces for rolling out dough. The flour gets everywhere and makes the dough tough. Roll on a piece of parchment for easy handling!
Cutting the dough: Use a sharp knife with a gliding motion OR unflavoured dental floss/string to make clean cuts that preserve the spiral.
Enjoy warm: These buns are delicious fresh out of the oven or slightly warmed.
More Tea Recipes
Brown Butter Matcha Cookies
Brown Butter Matcha Rice Krispies
Matcha White Chocolate Frog Donuts
Yield: 6 large buns
Hojicha Brown Sugar Boba Buns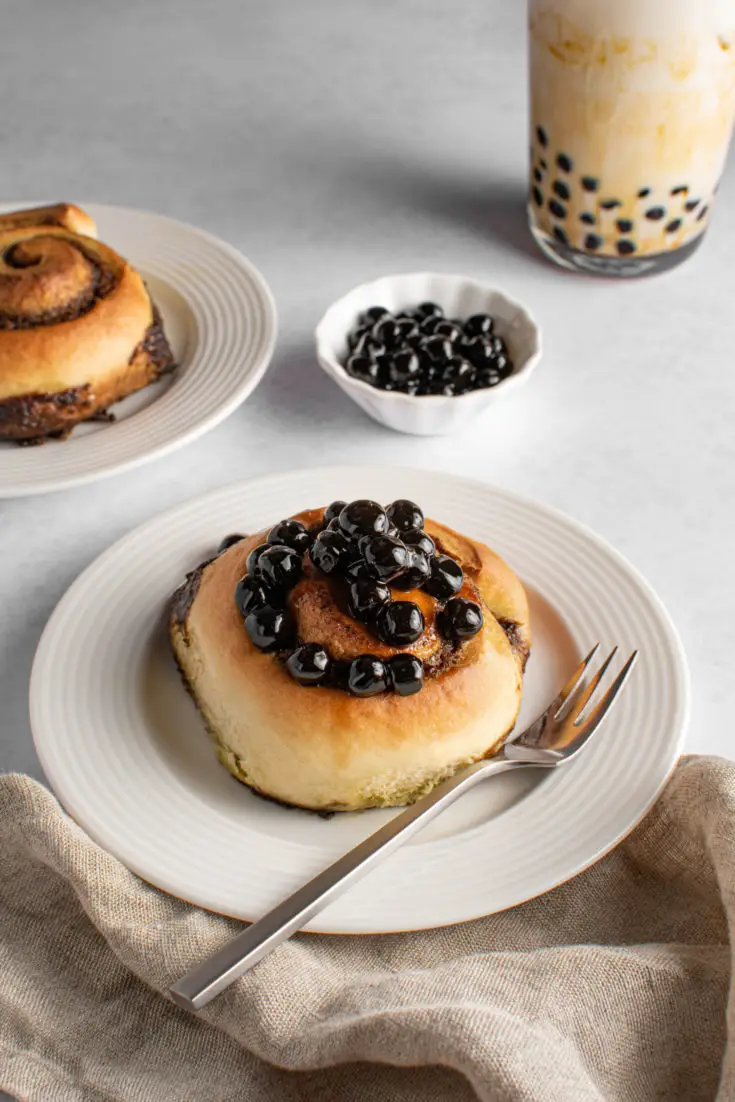 These Hojicha Brown Sugar Boba Buns are fluffy, aromatic, and delicious! Try them warm 🙂
Total Time
2 hours
22 minutes
Ingredients
Dough
123g lukewarm milk
2 tsp instant yeast
1 tsp sugar
270g flour
65g sugar
1 egg
40g softened cubed butter
Filling
2tbsp hojicha powder
57g softened butter
100g dark brown sugar
Additional
125g boba cooked according to package instructions
Instructions
Dough: In a large bowl, whisk together slightly warmed milk, yeast, and 1 tsp of sugar. Wait 5-10minutes until foamy. Then add the flour, sugar, and egg. Mix with a dough hook or you can also do this by hand. When the dough starts to come together, mix/knead through the softened butter. The dough should be soft and elastic. Place dough in an oiled bowl covered and let rise for 1 hour or until doubled in size.
While the dough is rising, mix together hojicha powder, butter, and dark brown sugar in a medium bowl. It should be a spreadable consistency.
On a piece of parchment, roll the dough out into a rectangle(~0.5cm thickness). Spread the hojicha mixture evenly across the dough. Starting from the long end, roll the dough up.
Using a sharp knife or floss, cut into 6 rolls. Evenly space the rolls in a lightly greased 31x21cm baking pan. Allow to rise one last time covered for 30min.
Bake at 375F or 190C for ~22min or until golden brown. Allow to cool slightly.
Top with boba and enjoy warm!
More Recipes