Taiwanese fried chicken is one of the best-fried chickens you could ever have. It has all the features and qualities of a great fried chicken- crispy, juicy, and well spiced. Juicy on the inside and crispy on the outside. This boneless bite-sized snack is one of my childhood favorites.
As a popular street food in Taiwan and one of my favorite snacks, Taiwanese fried chicken is meant to be eaten and enjoyed while you stroll through the nightmarket. You can either eat the chicken on its own or with just about anything.
Keep reading to learn more about this amazing dish and discover a simple Taiwanese popcorn chicken recipe.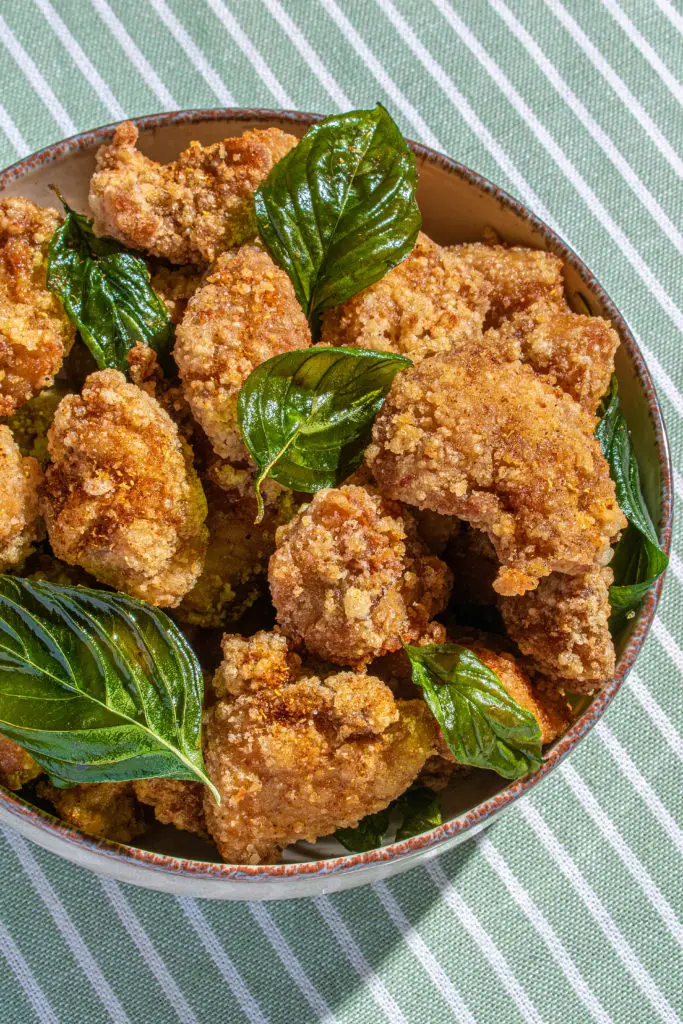 What is Taiwanese Popcorn Chicken?
Taiwanese popcorn chicken, commonly known as Taiwanese fried chicken (台灣鹽酥雞 – táiwān yán sū jī), is popular street food and addictive snack from Taiwan. It was first made in 1979 in Taiwan city by street stall cooks, who were trying to adapt to the concept of the American style fried chicken but with a local taste. It is commonly known for its light and crispiness and is now served in restaurants all over the world.
While preparing this fried chicken, you want to make a batter that is thin enough but still makes the skin crispy and thick enough to ensure the meat doesn't dry up. The batter for Taiwanese popcorn chicken does not call for eggs or soda water.
Similar to other crunchy fried chickens, Taiwanese fried chicken is deep-fried twice. First in low temperature to cook the chicken and later in high heat to add the crunch. However, to save time, this recipe only calls for one round of frying. Marinating your chicken will not only add flavor but will also tenderize your chicken, whether it's chicken thighs, chicken leg, or chicken breast.
Why is Taiwanese Fried Chicken So Special?
There are many reasons why Taiwanese fried chicken is very popular and close to the heart of many people.
It is easy to make at home without too much hassle.
The chicken is super crispy on the outside because of the use of special sweet potato flour or starch. It is also juicy and moist on the inside giving a delicious taste.
It is a perfect snack for both kids and adults. You can also make it for your party guest, and they will for sure love it.
Lastly, the Taiwanese popcorn chicken is super addictive, and it is hard to stop yourself from taking another bite.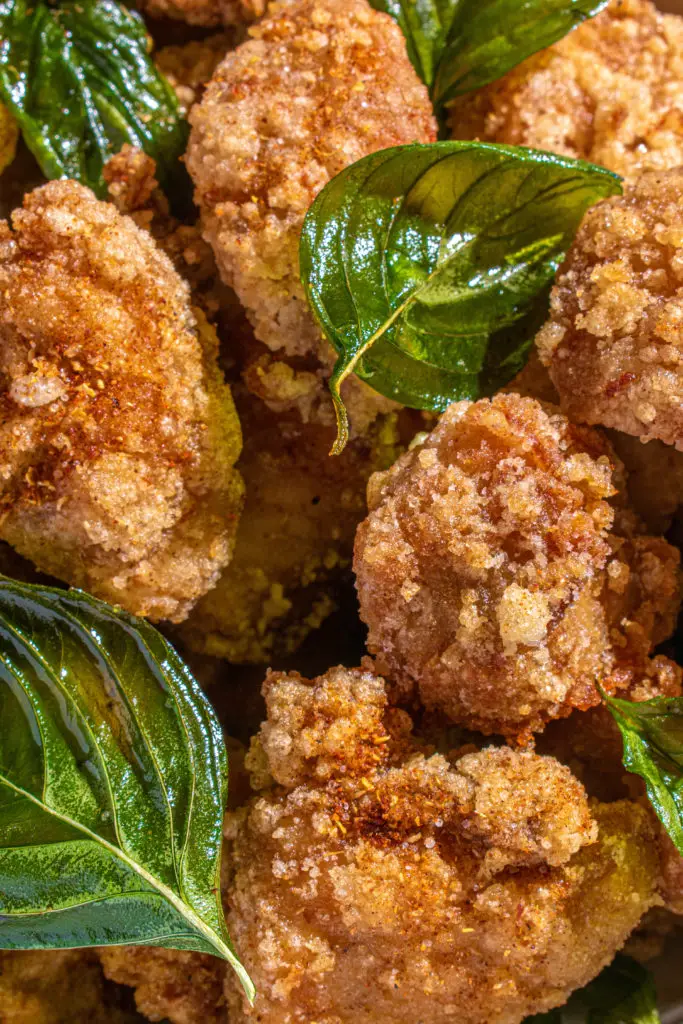 What are the Best Taiwanese Fried Chicken Ingredients?
Although different Asian recipes may require different ingredients, here are some of the common ingredients used in almost every recipe:
Chicken- This is the main ingredient. Most often, boneless skinless chicken thighs are used because of their flavor and juiciness. However, chicken breast also works.
Oil- It is mainly needed for deep frying the chicken. Depending on what you prefer for frying, choose a frying oil that best suits your needs, for example, vegetable oil, peanut oil, etc.
Five-spice powder- This provides the distinct flavor of Taiwanese fried chicken. It is commonly made from a Chinese spice mix of cinnamon, fennel, Sichuan peppercorns, star anise, and cloves. However, all five-spice powder mixes are different, so ensure it has your favorite spices.
Starch- I recommend potato starch or tapioca starch. It is used to make a crisp and light coating.
Light Soy sauce- Only a tiny bit of light soy sauce for salt and umami. However, some recipes will need a bunch of regular soy sauce for marinating.
Thai Basil- This dish is garnished with Thai basil leaves that are deep-fried. Fried basil adds an earthy herb freshness to the meal.
Different Methods of Cooking Taiwanese Popcorn Chicken
While deep frying is the most commonly used method of preparing fried chicken, there are other different methods of making Taiwanese fried chicken. Here are the commonly used methods:
1. Deep Frying
Deep frying is the most popular method of making Taiwanese fried chicken. Here are some tips you should consider:
Ensure you don't crowd the chicken in the pot.
Use a heavy-bottomed and deep pot to fry the battered chicken.
You need to have a lot of space to ensure the hot oil doesn't bubble over.
You can also make use of a kitchen thermometer to check the temperature of the oil or use wooden chopsticks. With the wooden chopsticks, dip it into the oil, if some bubbles come out at the end, then your oil is ready.
2. Air Frying
With this method, you simply need to use an air fryer. If you're oven baking or air frying, then you should first spray or apply oil to the chicken. You need to cook at 400°F for about five minutes, then flip to the other side for five more minutes. However, if you have large pieces of chicken, you might need a few extra minutes.
3. Oven Baking
Similar to using an air fryer, while oven baking, you also need to apply some oil to the chicken. Ensure it has a good coating of oil to ensure it browns evenly. Preheat the oven at 450°F and use cooking oil to coat the wire rack and the foil-lined baking sheet. Place the chicken pieces on the rack and bake for 20 minutes, flip, then bake for another five minutes.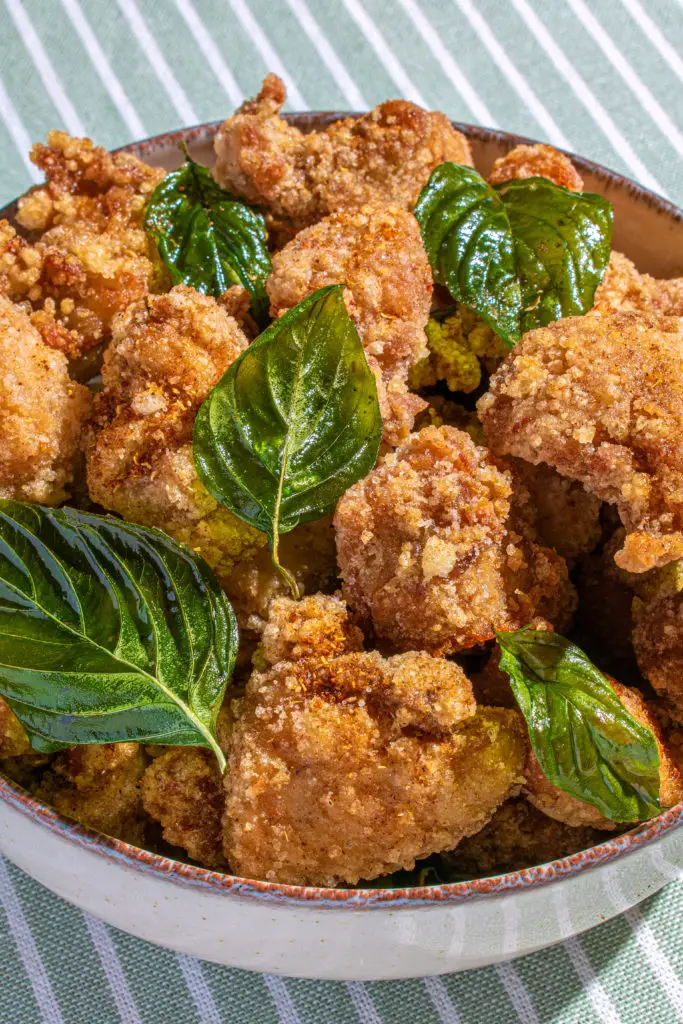 Which One is Better? Deep Frying Vs. Oven Baking Vs. Air Frying
Every method of cooking Taiwanese popcorn chicken has its advantages. Deep-fried chicken is the tastiest as you get some additional flavor from the frying oil.
On the other hand, oven-baked chicken is the juiciest, and lastly, air-fried chicken is the crispiest. Therefore, depending on what you're looking to achieve, you could try any of these methods. However, we recommend deep frying as it is the easiest, and you're assured of consistent results.
Types of Coating Used for Taiwanese Fried Chicken
The coating of Taiwanese fried chicken is different from a fried chicken coated with flour. Taiwanese fried chicken's coating is mostly a mix of regular potato starch, sweet potato starch, or tapioca starch. This results in the crust having little beads of crunchiness.
However, it doesn't become as golden as a regular fried chicken because these starches won't brown up in the same way. Starches are crispier but lighter, with no gluten in them.
Starch is a white powder that is made of two main molecules, including amylopectin and amylose. It is tasteless, and when heated, the molecules come together to create a rigid network that supports the shape.
Coarse starch is preferred because of the bigger granules that make the chicken crunchier. The best coating is made from a mix of the following starches:
1. Cornstarch
Made from corn kernels, cornstarch has fairly high amylose of between 25 and 28 percent, making it a great choice for coating. It is the most common type of starch used for coating, baking and also thickening sauces. Furthermore, it is very easy to find as you can easily find it in your nearest grocery store.
2. Potato Starch
It is crucial to note that potato starch is not similar to potato flour. Made from potatoes, potato starch also has a high amylose content of between 20 and 22 percent. It is also quite easy to find, and this is why a mix of potato starch and cornstarch is popularly used.
3. Sweet Potato Starch
Sweet potato starch is a classic coating that is quite popular in Chinese food. This type of starch has the highest percentage of amylose at approximately 30 percent. This makes it the crispiest and crunchiest of all other starches. Although some people use sweet potato flour as a substitute for sweet potato starch, it doesn't give perfect results as sweet potato flour contains protein and fiber.
Sweet potato starch is used for coating meals, deep-frying, and also making mochi-like dessert balls. If you want some for Taiwanese popcorn chicken, it is recommended to use coarse ground sweet potato starch. It gives the coating a craggy surface that results in crispier chicken when deep-fried.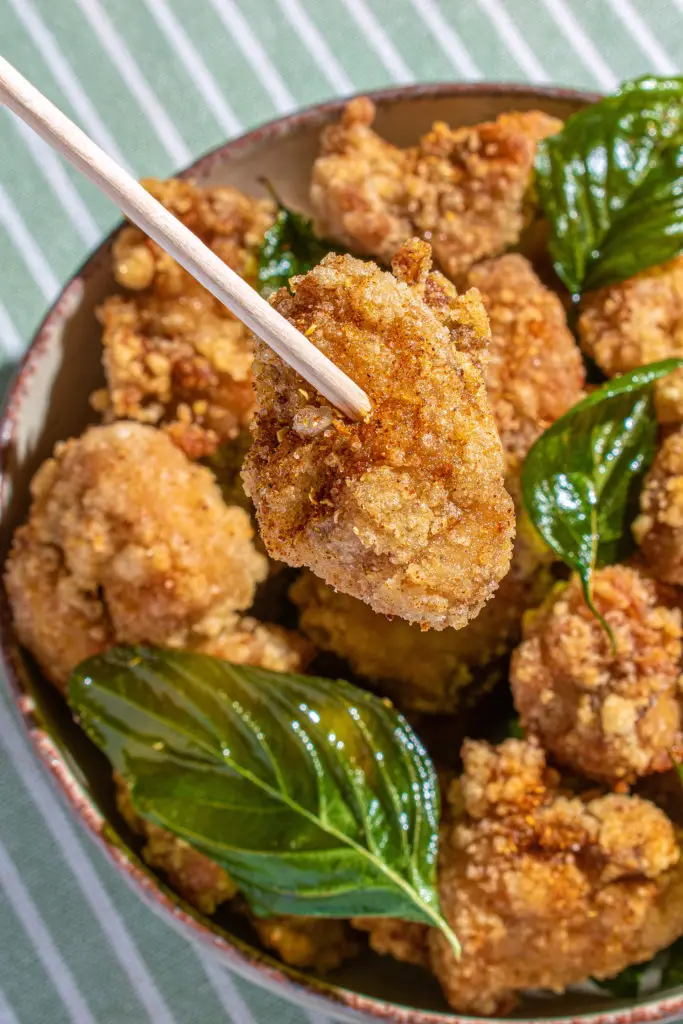 What Coatings Should You Not Use for Taiwanese Fried Chicken?
If you want to achieve the perfect coating for your Taiwanese fried chicken, here are some ingredients you should stay away from.
Wheat Flour
Rice starch
Rice flour
Such ingredients might not be able to give you the crispy and crunchy crust that you're looking for.
Tips to Achieve the Best Taiwanese Fried Chicken
A marinated chicken will help maximize the flavor. Don't skip this step if flavor is one of your main concerns.
If you can find sweet potato starch which is very similar to tapioca starch, the better. This is because it will make the coated pieces crispy. Note: Sweet potato flour is not the same as sweet potato starch.
Cut the chicken into small pieces, preferably 1-inch pieces. This not only makes the pieces easier to eat but also ensures every piece is fully cooked within the shortest time possible and also affects the overall texture.
Remember that if you're using sweet potato starch, the chicken won't have a deep brown color. Therefore, do not overcook it trying to make it turn a darker golden brown as over frying will only dry out the chicken.
This recipe only calls for one fry. However, double frying leaves fried food extra crunchy. Feel free to do this, while being careful not to dry out the chicken.
Although not very healthy, fattier cuts tend to be the best for any chicken recipe. I recommend boneless chicken thigh for this recipe.
The ratio of every spice is entirely up to you, and you can always change it accordingly. If you have remaining chicken or spices, just store them for later use.
What Can You Eat With Taiwanese Fried Chicken?
As mentioned earlier, anything can be eaten with Taiwanese fried chicken, however, depending on the recipe used. You can choose to eat it on its own or serve it with some white rice, fried noodles, or fried rice. You can also serve it with your best dipping sauce, for example, a spicy mayo dipping sauce.
However, if you're looking for an additional Taiwanese experience, you can also serve it with fried fishcakes, green beans, or mushrooms. While serving it on its own, remember to sprinkle some chili/paprika and salt seasonings for that extra flavor.
Frequently Asked Questions (FAQs) on Taiwanese Fried Chicken
1. When was Taiwanese fried chicken invented?
The Taiwanese fried chicken originated in the night markets around the year 1979. A family, popularly known as Yeh Family, was trying to make chicken nuggets the KFC way, but they ended up coming up with the popcorn chicken. It is small and easy to carry around as a snack.
2. Is Taiwanese popcorn chicken the most popular food in Taiwan?
Although the Taiwanese popcorn chicken is quite popular in Taiwan, there are other dishes that are much more popular. These include beef noodles, soup dumplings, minced pork rice, etc.
More Recipes That You Would Like
Brown Butter Matcha Cookies
Brown Butter Matcha Rice Krispies
Matcha White Chocolate Frog Donuts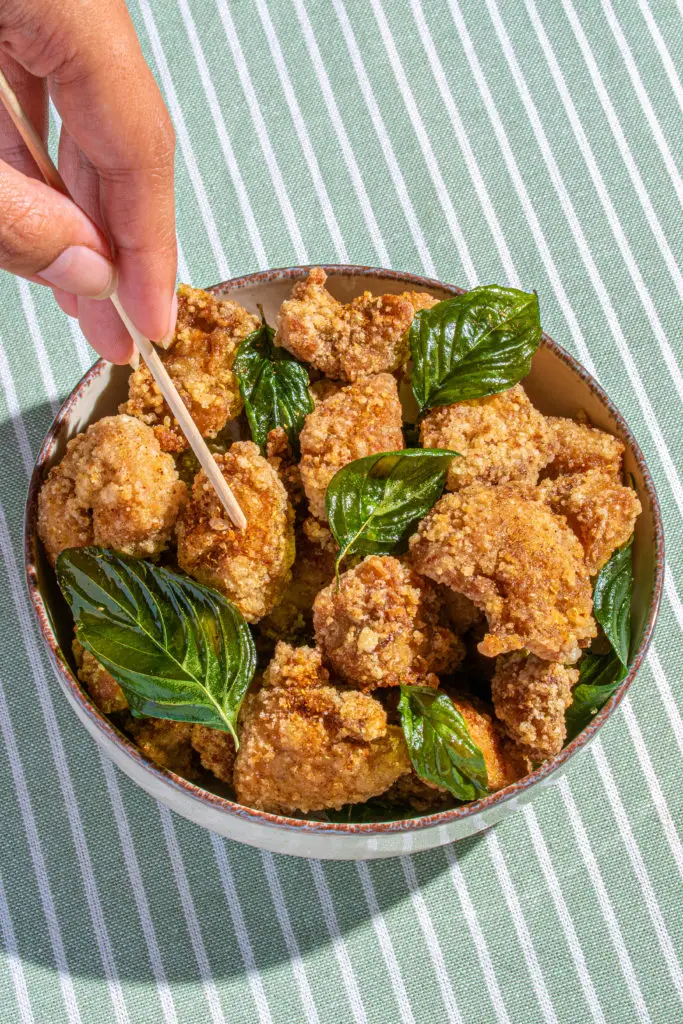 Yield: 6 servings
Authentic Crispy Taiwanese Popcorn Chicken(鹽酥雞)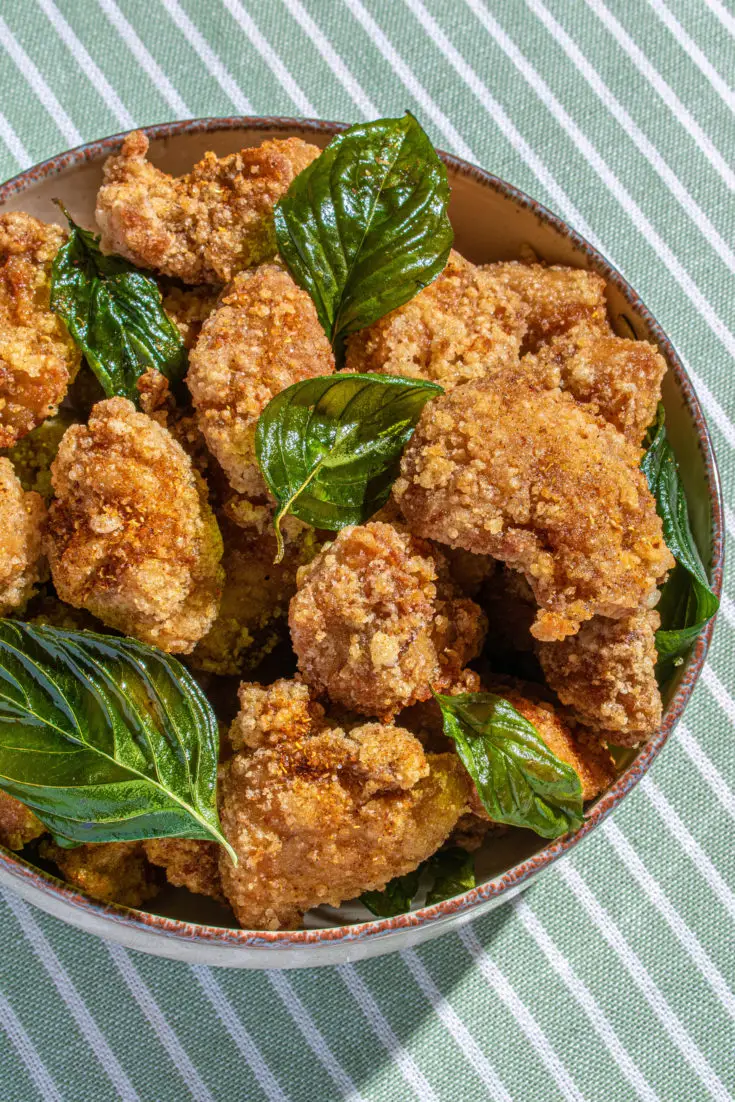 Tired of eating the regular fried chicken? Make this delicious, crunchy, and addictive snack with this Taiwanese fried chicken recipe.
Ingredients
Marinade
800g chicken thigh or breast
2 tbsp soy sauce
*2 tbsp soy sauce paste(醬油膏)
3 tsp sugar
2 tsp five spice powder
1.5 tsp white pepper powder
**1 tsp chicken bouillon powder(雞精)
2 tsp salt
1.5 tsp garlic powder
Neutral oil for frying
Seasoning/Garnish
1.5 tbsp sichuan peppercorns
2 tsp chilli powder
2 tsp salt
1 tsp five spice powder
125g (around 1 cup) sweet potato starch(地瓜粉) or tapioca starch(木薯淀粉)
50g (½ cup loosely packed) thai basil leaves
Instructions
Cut chicken into bite sized pieces. In a large bowl add cut chicken, soy sauce, soy sauce paste, sugar, five spice, white pepper, chicken bouillon, salt, and garlic powder. Mix thoroughly, cover with cling film and marinate overnight in the fridge.
To prepare the seasoning mix, add Sichuan peppercorns to a spice grinder and pulse until very fine. Alternatively you can use a mortar and pestle/blender to do this. In a small bowl combine the powdered peppercorns, chilli powder, salt, and five spice powder. Set aside for later.
Preheat the oil to 350F or 180C. Once the chicken has marinated, add starch directly to the chicken. Toss the chicken in the starch until evenly coated. Continue tossing until the starch starts to form small beads or pearls on the chicken. If the chicken is too dry, drizzle in one tsp of water at a time and continue tossing. This is crucial in obtaining the right texture.
Deep fry the chicken in small batches until golden brown (~5min depending on size). Transfer to a wire rack and sprinkle with the seasoning mix while hot. Finish frying all the chicken.
Finally, pat the basil dry between towels. Add the basil into the oil in half batches and cover immediately. Be careful as it tends to pop and splatter. Fry for 30-60s. Remove the basil and add to the fried chicken. Sprinkle with more seasoning.
Serve and enjoy!
Notes
*sub with 1tbsp soy sauce
**sub with 1tsp salt
More Recipes